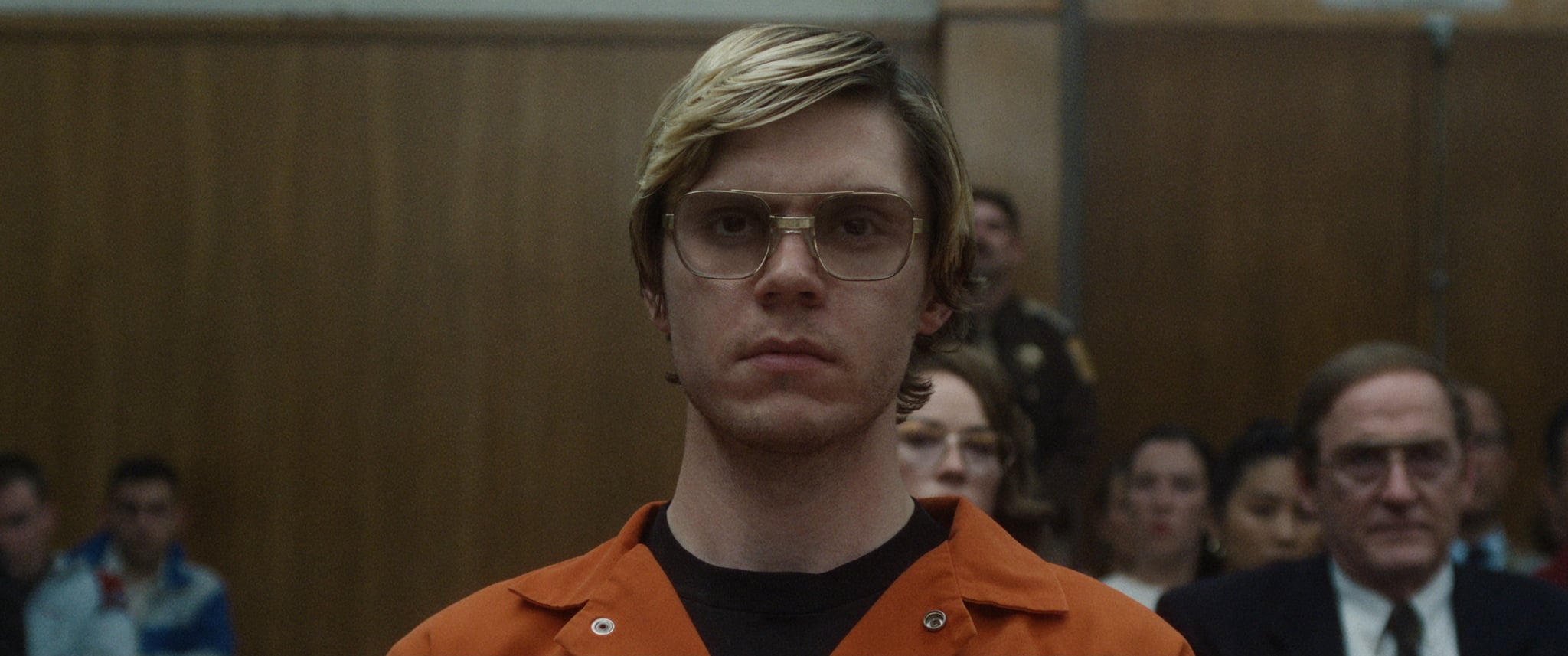 It's become a common meme among his fans online: let Evan Peters do something normal! The actor plays Jeffrey Dahmer in Netflix's new true crime series "Monster: The Jeffrey Dahmer Story," but it wasn't his first out-of-the-box Ryan Murphy production. The actor has appeared in nine seasons of "American Horror Story," and he's portrayed serial killers, cult leaders, and slave owners on the series. In "Monster," he plays the title murderer, who killed at least 17 people. During an event for the show at the DGA Theatre in Los Angeles on Oct. 28, Murphy admitted that Peters wanted to play someone "normal" for once, and maybe even do a rom-com, according to The Hollywood Reporter.
But Murphy auditioned 100 people for the part and none of them clicked, so he went to Peters with the script anyway. Peters called back the next day. "He said, 'It's so challenging. It's so difficult that I kind of have to say yes to it, even though I'm terrified of it,'" the showrunner said.
Peters, who was also at the event, talked about the physical challenge the role provided. "Then the physicality of it, which I knew was going to be so hard," he said, according to the outlet. "He has a lot of external things from the way that he walks, he doesn't move his arms when he walks and talks. And so I did a lot of research on watching him and seeing how he moved and working with weights on my arms, wearing wardrobe, all sorts of things that I would carry with me throughout the day to try to stay in it, so it would be second nature." He also made a 45-minute audio file of Dahmer's voice that he would listen to all the time so he could mimic his accent and get inside his head.
Peters's costar Niecy Nash said that he was very strict about staying in the zone on the set. "I didn't get to know Evan, because Evan stayed in his process," she explained. "So, you know, being his nosy neighbor, and a thorn in his flesh, we didn't really get to connect. I think maybe we said good morning twice? Because I forced it on him . . . I realized, [I have to] stay in my lane because I did not want to upset your process and what you need to do to stay where you needed to stay." Nash plays Glenda Cleveland, Dahmer's real neighbor who tried to stop him.
"Dahmer" has become a hit on Netflix since it was released in September, but it's also been criticized by many for sensationalizing the stories of the victims.