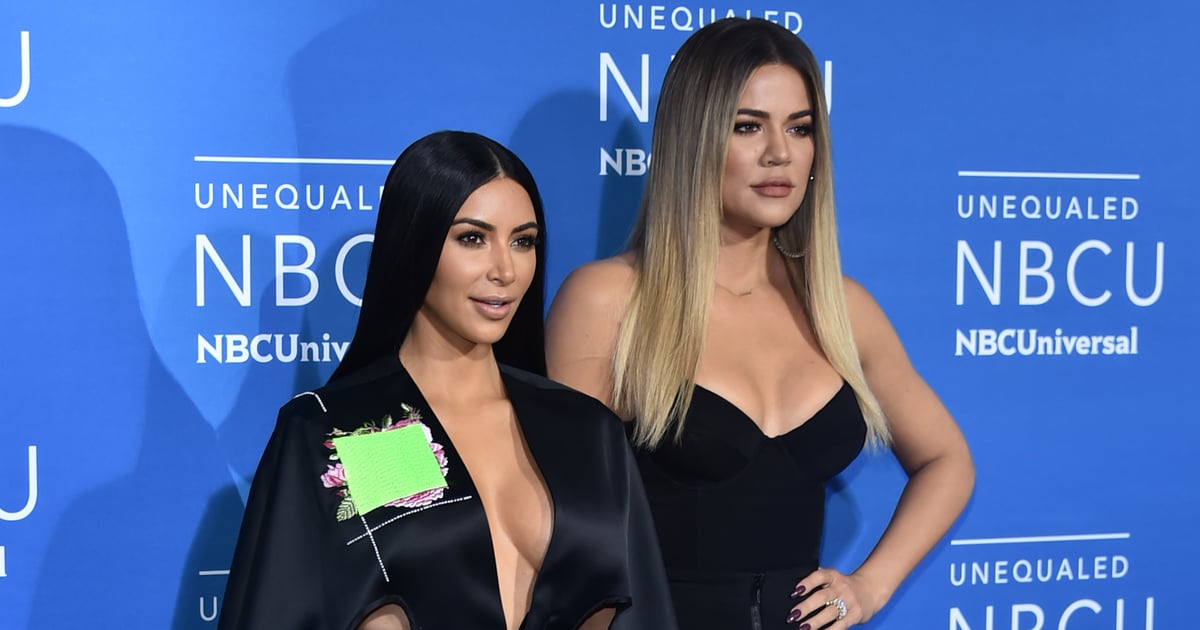 Kim Kardashian turned 42 on Friday, Oct. 21, and her little sister Khloé Kardashian marked the occasion by praising her big sis's resilience. Khloé shared a carousel of rare throwback photos featuring her, Kim, and their oldest sister, Kourtney Kardashian as kids, saving the last slide for a classic clip from "Keeping Up With the Kardashians" featuring Kim getting upset over her sisters' reaction to her getting a Bentley. Gentle teasing aside, the Good American founder had nothing but good things to say about her "soulmate (and my swole-Mate)."
"Happy birthday Keeks! My brave, remarkably resilient sister, happy birthday!" Khloé's lengthy caption began. "Life doesn't get easier or more forgiving we simply become more resilient and, in my opinion, you are the poster child of resilience. So thank you for birthdays because you have gotten stronger, wiser, braver, more vocal with your beliefs."
Khloé went on to praise her sister for becoming "kinder and gentler" as the years have gone by. "I thought people got grumpier the older that they became, but you have become a more self-aware, loving and patient person," she continued. "The busier you become, the more you give to the ones you love. You give your absolute all in every area of your life."
She then proceeded to shout-out her big sister's accomplishments in every area of her life. According to Khloé, Kim excels at being a "mom, sister, daughter, best friend, aunt, entrepreneur, lawyer, (I can go on and on)…." The reality star added that her sister's "drive for life inspires me daily."
"Kimberly I feel so blessed and privileged that I was blessed with you as my sister and best friend," her post continued. "You and I until the end kiddo. I ride for you. By your side until the end. I would do ANYTHING for you. Absolutely ANYTHING. I won't even ask questions. Ha! I'll follow you blindly wherever you go to support and protect you. I'll be right there in the sidelines cheering you on or ready to throw down if need be. All I'm trying to say is, I proudly and honorably got you until time runs out. Never forget that I'm by your side in all lifetimes. I've already worked it out with the angels."
"You and I until the end kiddo. I ride for you. By your side until the end. I would do ANYTHING for you. Absolutely ANYTHING. I won't even ask questions."
Khloé concluded her post by sending her "stunning sister" best wishes on her special day. "Every single blessing you have in your life you are incredibly deserving of, and I pray that your blessings continuously rain upon you. To one of the most spectacular and extraordinary humans I know, cheers my stunning sister! I love you my soulmate (and my swole-Mate)," she concluded.
Likely sensing that no one could top Khloé's ode to Kim, the rest of the Kardashian–Jenner sisters kept their tributes short and sweet. Kourtney simply shared a collage of photos featuring her and Kim together through the years on her Instagram Stories on Friday, while Kylie Jenner shared a roundup of photos featuring her and her big sister together over the years on her Kylie Cosmetics Instagram. "Happy birthday @kimkardashian 🤍🎂💕," she captioned the pics.
Still, the sisters' mom, Kris Jenner, put together something special for her second oldest daughter. In an Instagram post shared on Friday, Kris posted a series of home-video footage from special days in Kim's life throughout the years alongside a touching caption. "Happy birthday to my beautiful Kimberly!!!! You are still my little girl and at the same time you are the strongest woman I know," she wrote.
Kris continued, "You handle everything that you go through with such incredible grace. You are such an amazing example of strength and calm through anything. You are an amazing mommy, daughter, granddaughter, auntie, sister, cousin and friend. You love so hard, you are so kind, loyal, supportive, smart, funny, creative, resilient, respectful of everyone and truly the most beautiful woman inside and out! You live life to the fullest and you make sure every single person you love in your life is ok and is taken care of. Thank you for bringing me so much joy and happiness and for loving me the way you do. I hope you have the most magical birthday and an incredible year. I love you more than you will ever know. Mommy 😍❤️🎂🥳🍸."