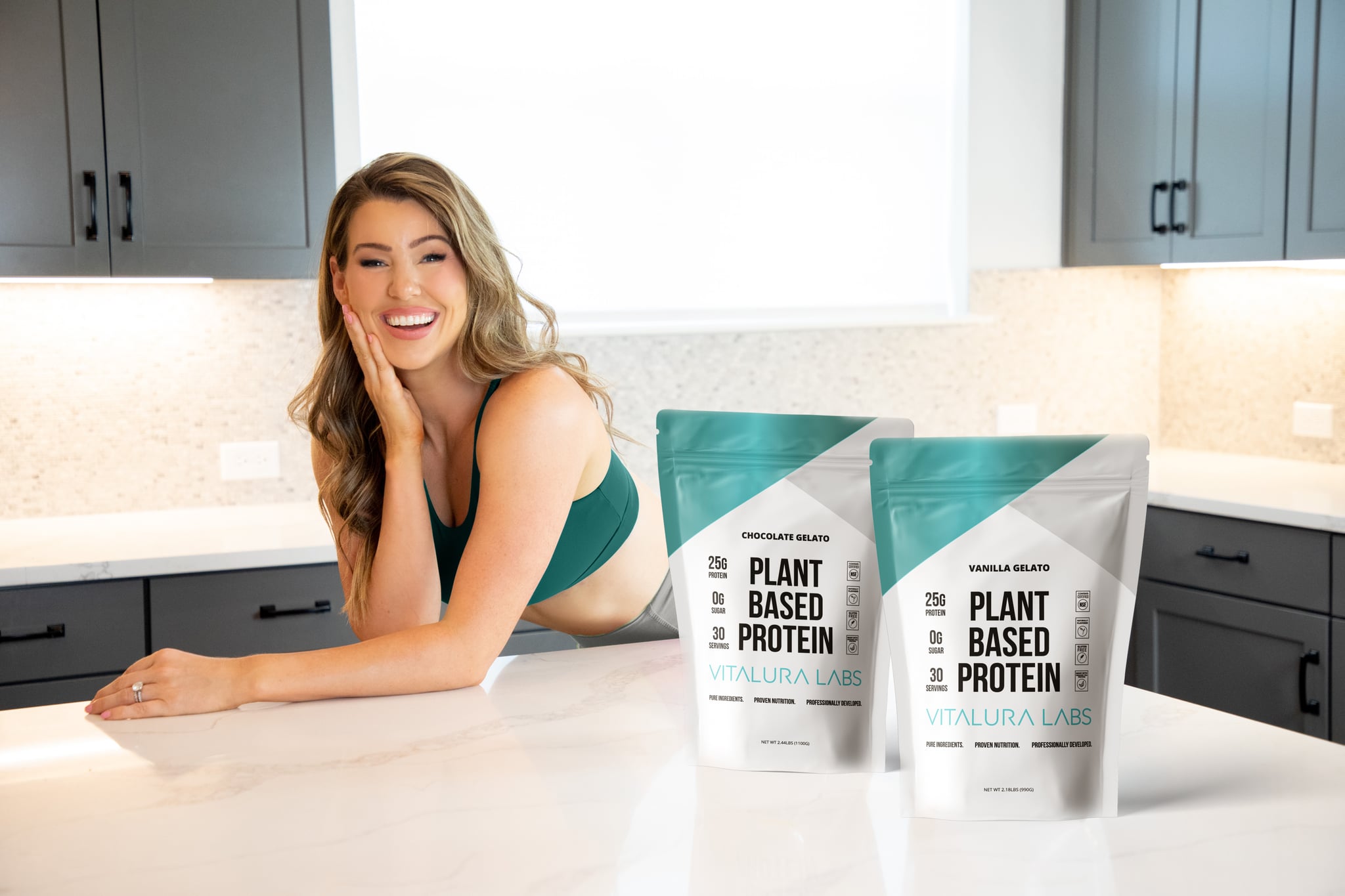 As a fitness influencer with a community of over one million Instagram followers, Anna Victoria gets asked all the time for her recommendations: what exercises to do to get strong abs or glutes; what to eat for breakfast, lunch, and dinner. One thing the NASM-certified personal trainer never felt comfortable recommending though was a protein powder, despite frequently emphasizing the importance of protein for muscle growth and maintenance. "There were brands that I was using and that I liked, but I take my recommendations so seriously," Anna Victoria tells POPSUGAR. "I just did not feel like there was a brand that I could 100 percent get behind, mainly because there's such a lack of transparency in the supplement industry."
For years, Anna Victoria says, she used a particular brand of protein powder that tasted "literally like ice cream." It was so good, in fact, that she started to get suspicious. "When it comes to health food products, if it tastes that good, there has to be a catch," she says. So Anna Victoria sent it to a lab, wanting to see if the product's nutrition content actually matched what was on the label. "We figured there was just maybe way more sweetener, sugar, or something added," she says. But the results were worse. The protein powder, which advertised 20 grams of protein per scoop, only included three grams per scoop, according to the lab results, "which means that the rest was either filler or just sugar," Anna Victoria says. "It was such a shock and really solidified, unfortunately, my distrust for the supplement industry."
So she decided to make her own product, taking two years to concoct the right formula. And in September 2022, the influencer launched Vitalura Labs protein powder. As a longtime follower of Anna Victoria, I was intrigued by the brand and the personal story behind it, as well as the protein content (25 grams per scoop!) and flavors: chocolate and vanilla gelato, a tribute to the Italian roots of Anna Victoria's husband and business partner, Luca Ferretti. Vitalura Labs sent me both flavors to try out, so I set my usual protein powders to the side for two weeks and added Vitalura to my smoothies, shakes, and oatmeal. Here's what I thought.
What I Like About Vitalura Labs Protein Powder
First impression of the Vitalura Labs chocolate gelato flavor: "wow, that smells amazing." It's not my usual reaction when I open a bag of protein powder, and especially not a bag of plant-based protein. I've had some unfortunate experiences with pea protein powders that taste like, well, peas, which is not a great flavor in a breakfast smoothie.
When I blended the Vitalura powders into protein smoothies with other ingredients (milk, bananas, cinnamon, peanut butter, etc.), I didn't get any kind of veggie-like taste, just a sweet flavor and smooth texture. The vanilla gelato really shined in a batch of protein oatmeal that I whipped up for lunch one day. I also tossed it into one of Anna Victoria's Instagram recipes to make a pumpkin spice smoothie, which was excellent.
Across the board, though, the chocolate gelato powder was my favorite, with a rich taste that rivaled my favorite whey protein powder when combined in smoothies. (For context, whey protein is sourced from milk products, which gives it a naturally neutral taste that's easy to sweeten. Plant-based protein is isolated from different plants, such as peas and brown rice, and it can be harder to eradicate the natural taste of those ingredients. More on the blend of proteins used by Vitalura Labs ahead.)
What's more, Vitalura Labs protein powder is tasty while offering 25 grams of protein per scoop — and you can trust that number because the product is certified by the National Science Foundation (NSF). The NSF is considered the gold standard for verifying that a product is safe for use and contains the nutrients and ingredients advertised. (In other words, an NSF-certified protein powder won't get away with inflating the protein content.)
Looking more closely at the nutrition facts, the Vitalura Labs protein powders also contain minimal ingredients and no sugar or artificial sweeteners, aspects Anna Victoria attributed to her Italian connection. "I learned so much about how to live a healthy, balanced lifestyle through [Italian] food culture," she explains. "It's minimal ingredients and very pure and fresh and clean, so we wanted to take from that to create this protein, so it doesn't have a long list of ingredients, and the ones that it does have are all natural."
Another benefit of Anna Victoria's protein powders? They are complete proteins. The powders come from three sources: pea protein isolate, brown rice protein isolate, and pumpkin seed protein isolate. The three of them together, Anna Victoria explains, constitutes a "complete protein," which means the combination provides all nine of the amino acids your body needs to source from food.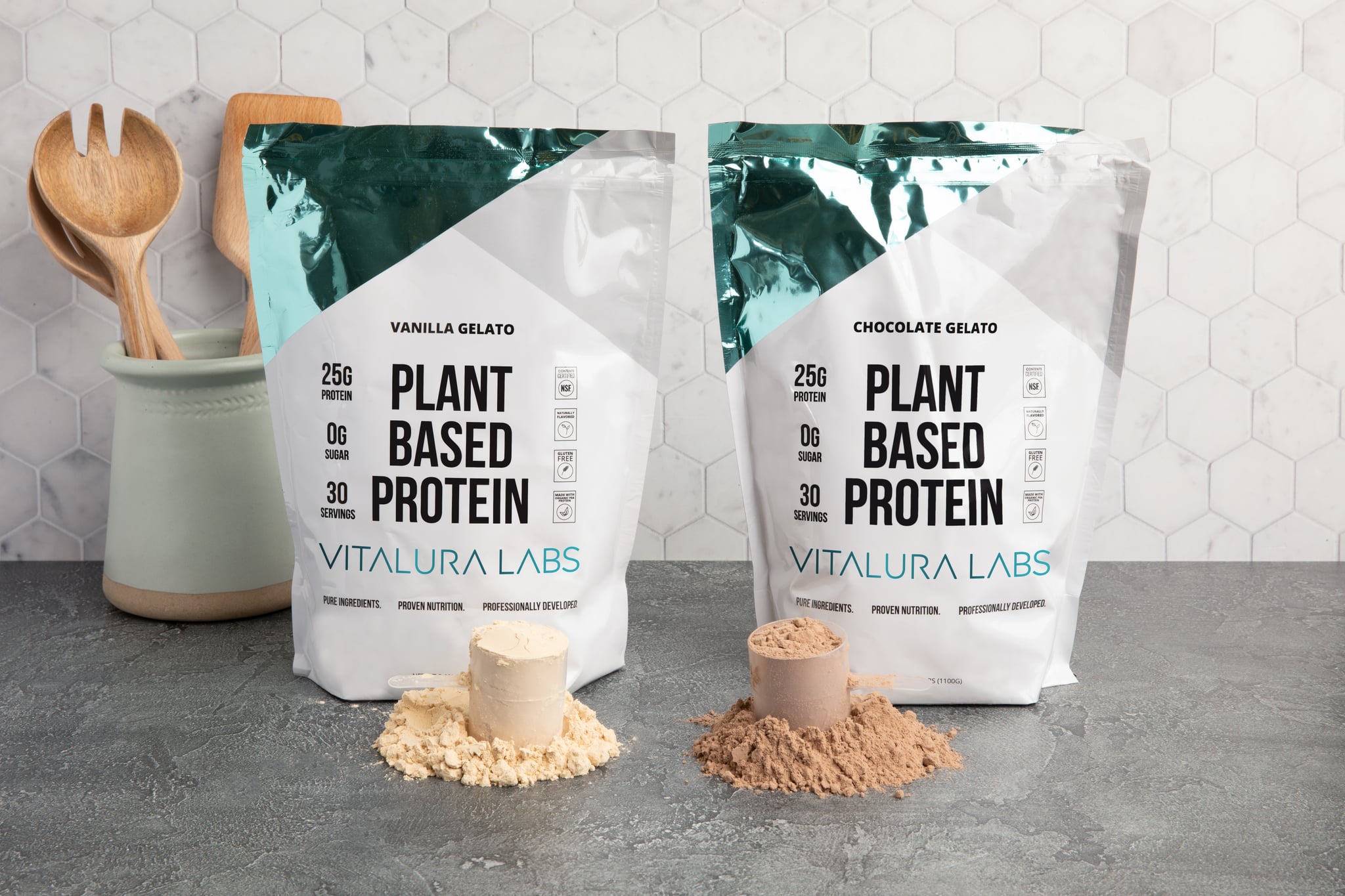 Image Source: Soona Studios
What's Worth Noting About Vitalura Labs Protein Powder
The taste of Vitalura Labs protein powder is very good, but not perfect. A slight "protein-y" aftertaste sometimes came through, especially when I tried the chocolate gelato flavor blended with just milk and ice, rather than in a smoothie or oatmeal with other ingredients. The vanilla taste is also very strong, to the point of tasting a bit artificial — a trade I'd make to avoid the typical veggie-tasting protein powder, but something to be aware of if you like more subtle sweets. You may also need to add extra liquid when blending the powders into your recipes as they ended up being quite thick when I added them to smoothies and oatmeal.
Who Is Vitalura Labs Protein Powder Best For?
If you take your protein and macro goals seriously, you'll feel good about adding Vitalura Labs protein powders to your shakes and recipes. I love that it contains all-natural, sugar-free ingredients and, crucially, those 25 NSF-certified grams of protein. The taste and texture are pretty solid. And plant-based folks, especially, will love the sweet flavor and high protein content that comes without animal products.
More casual protein-lovers — let's say, those of us who add a scoop to our smoothies every once in a while but don't make it a priority — might prefer to stick with the brands and flavors they're familiar with. I would still recommend Vitalura Labs, simply for its safety and trustworthiness. The supplement industry is not very well-regulated, and NSF certification is about the best you can get in terms of guaranteeing safety and label accuracy.
Is Vitalura Labs Protein Powder Worth the Splurge?
Vitalura Labs's protein powders retail for $60. Each bag contains 30 servings of protein, and with the NSF certification, you know you're getting the amount of protein you've paid for with third-party-approved safety.
Where Is Vitalura Labs Protein Powder Available?
Vitalura Labs protein powder is sold in chocolate gelato ($60) and vanilla gelato ($60) flavors and is only available online from Anna Victoria's Fit Body App storefront. The protein powders are currently only shipping in the US, with Canada and Europe shipping expected in early 2023.
Rating:
Image Source: Victoria Vasquez