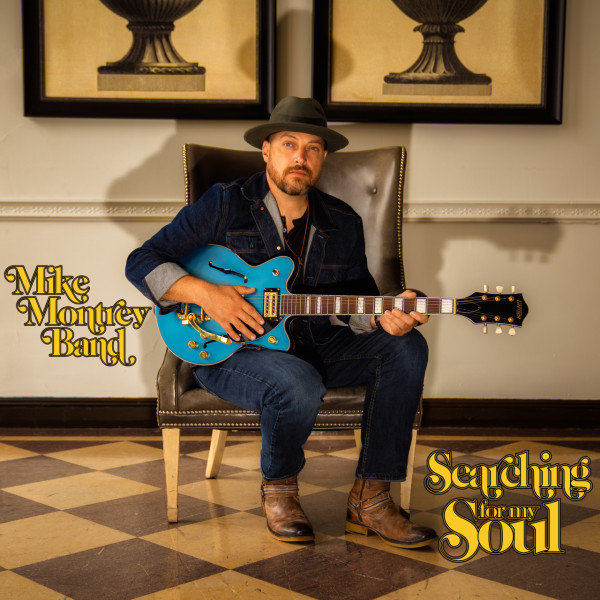 New Jersey-based Americana/rock n' soul outfit Mike Montrey Band unveils their new album, Searching For My Soul.
Montrey explains, "To start, the title, 'Searching For My Soul,' says a lot about all of this, and these songs. It's what these songs, and my journey, be it through my past, present, or potential future, are about. Never settled, in my mind, and for a while in body. It's a beautiful thing, actually, but it sometimes can be difficult to navigate daily. These songs are about those physical and emotional journeys, whether it's my narrative or a perspective narrative."
Wanting the album to reflect an innovative, fresh sound, Montrey cherry-picked double Grammy winner Marc Swersky to produce Searching For My Soul. Well-known for "Trust in Me," his co-write recorded by Joe Cocker, Swersky and the band worked in a live format to capture the authenticity of the tracks. The album was mixed by Seth von Paulus (Smashing Pumpkins, Christina Aguilera).
Talking about working with Swersky, Montrey says, "I originally thought of working with him on three songs, but I loved the ideas he had and the unique direction he took those songs in, so it made sense to have him produce the whole project. He's more hands-on and detail-oriented than most of the producers I've worked with, and I was excited in tapping into a whole different creative process with him. The band did a few run-throughs of the songs before Marc rolled in, and a few of them changed significantly because of the amazing ideas he had."
Made up of Montrey (vocals, guitar), Jen Augustine (vocals), and Anthony Duca (bass), the band's lineup on Searching For My Soul includes John Ginty (keyboards), Jack Stanton (pedal steel guitar), and Brian Prokop (drums).
Encompassing seven tracks, the album begins with "I Can't Wait Any Longer," opening on bluesy guitars riding a delicious mid-tempo, funk-lite rhythm topped by bright, creamy tones and Montrey's tantalizing, rasping vocals.
Entry points include "Reno," with its dark piano intro rolling into a drawling, country-rock melody. Montrey's supple voice, vaguely suggestive of Bob Seeger, imbues the lyrics with luscious chafing tones, while Augustine's vibrant voice adds luminous timbres.
According to Montrey, "'Reno' is the story of a man who struggles with his own vices, and potentially those vices are exacerbated by his own circumstance. Escape seems to be the only option, to either find solace through healing or engage in the deepening of said vices. I wrote this song in only a few hours. Seeing the picture of this story clearly. Musically, the buildup throughout mirrors the song's narrative."
Brimming with visceral, potent energy, "So Long City of Angels" features a galvanizing, upbeat rhythm, gleaming guitars, a braying organ, and Montrey's compelling, scraping voice, highlighted by retro-flavored "ooh la la" harmonies.
A personal favorite, "Searching For the Sun" rolls out on a glimmering acoustic guitar as Montrey's poignant voice, soft and pleasantly grating, imbues the lyrics with wistful timbres.
Speaking about "Searching For the Sun," Montrey shares, "This is an even more descriptive narrative of the troubadour, never settled, never wants to be settled. I was this person, I've been to these places, maybe I still am, and will always be this person?"
A gem of an album, Searching For My Soul drips with the intimate, visible journey of a person delving into life, looking for meaning.
Follow Mike Montrey Band Instagram | Twitter | Facebook | Spotify