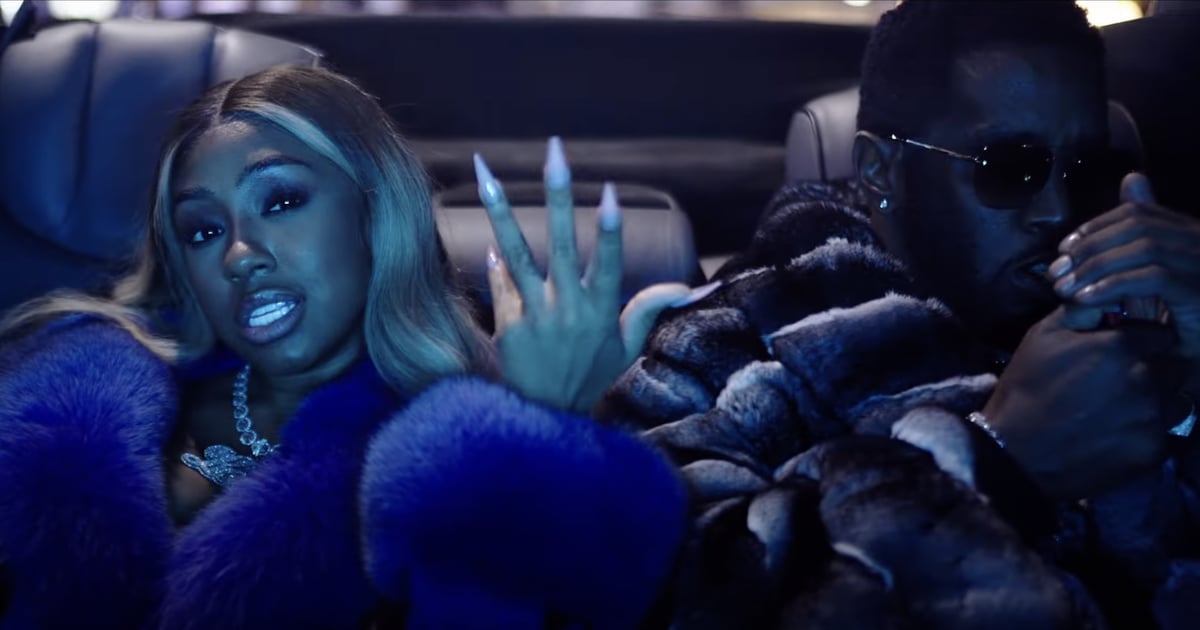 Diddy just released a new music video for a special "Queens Remix" of his song "Gotta Move On" featuring Bryson Tiller — this time, with some more special guests. The track for the visual, which premiered on Oct. 14, features Yung Miami of City Girls, Ashanti, and a classic New York-style beat produced by Ron Browz. With a sample of Phil Collins's "In the Air Tonight" and the streets of the big city as its setting, the "Gotta Move On (Queens Remix)" video matches a fiery verse from Yung Miami with Ashanti's powerhouse vocals.
"He on my body real bad (Real bad) / Too fly, b*tch, I ain't never jet lag / Hop on this PJ, his other hoes mad / Caresha, please, he love it when I brag," Yung Miami raps, while Ashanti comes in with a verse and a hook. "Now I got a new man, yeah, you got move on," she sings. "Yeah, I got a new agenda with someone you probably know / And you know I ain't wrong, yeah, I had to move on."
The original "Gotta Move On" video, directed by Teyana Taylor, was released on July 20, with appearances from Diddy's sons, Quincy, Justin, and King. Tiffany Haddish also appears in it as a bouncer checking the vibes of the club she guards. Meanwhile, in the video, Diddy attempts to flirt with a woman who seems to be an old flame, but this starts an argument that leads him to retreat to a bathroom where he loses his cool. Fortunately, things go uphill from there.
"The visual ushers audiences into the world of 'Club Love' for the first time — a place of visionary fashion, elevated community, Black excellence at the highest level, and unabashed and unadulterated sex appeal," a press release for the original music video read.
"Gotta Move On" is the first release from Diddy's upcoming album, which is said to drop at the top of 2023. The album will be the first project to come out of his newly minted record label, Love Records, and will release in partnership with Motown Records. Diddy debuted "Gotta Move On" at the 2022 Billboard Music Awards in May, which he also hosted, with a star-studded performance featuring Tiller, Taylor, and her daughter Junie.
Diddy often turns his artistic achievements into family affairs. His kids made an appearance at the awards show, with Quincy and King in attendance along with Diddy's three daughters, Chance, D'Lila Star, and Jessie James. His sons also showed up for the 2022 BET Awards, where Diddy received a lifetime achievement award.
Watch the original video for "Gotta Move On" above and the visual for the "Queens Remix" ahead.