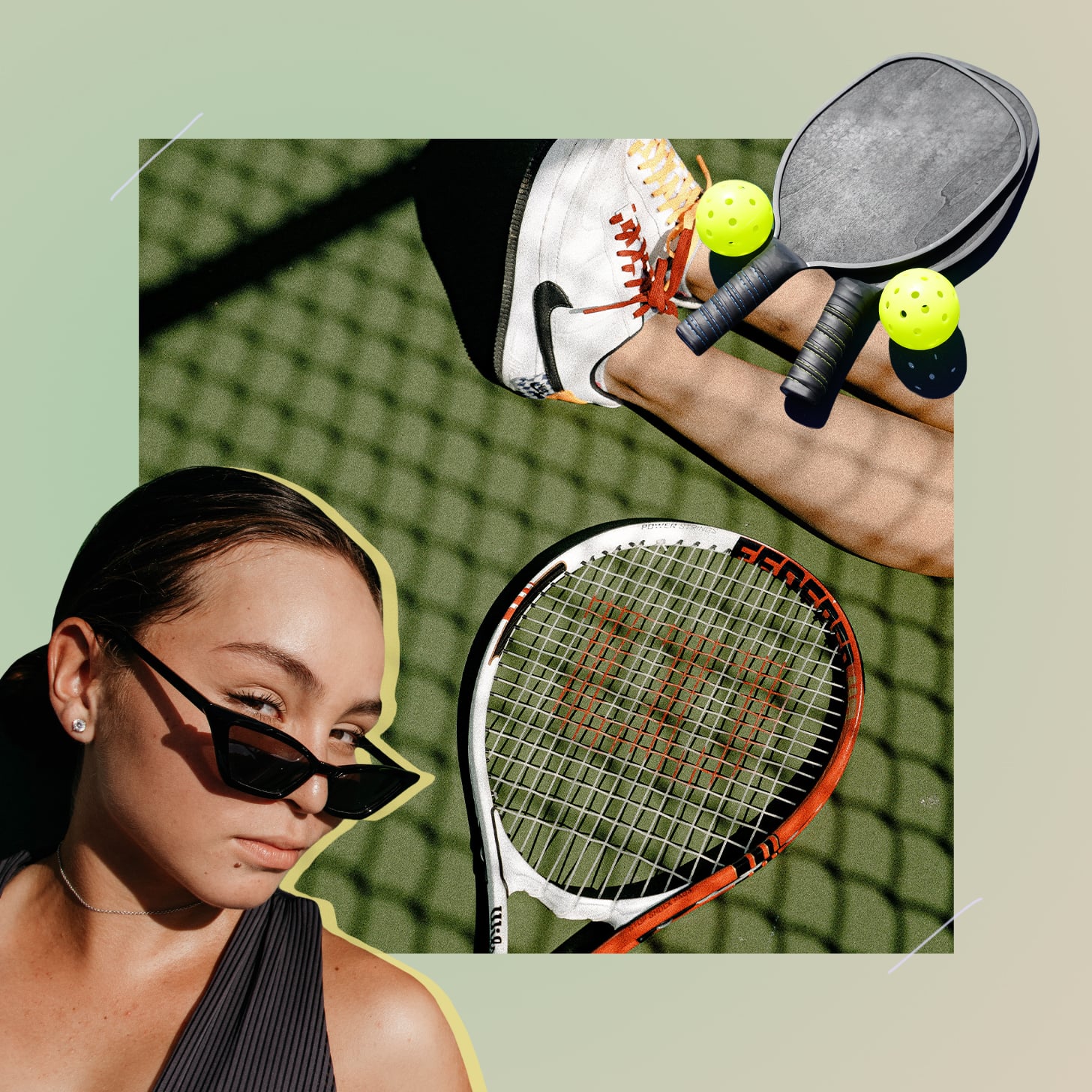 Image Source: Getty / Jennifer Smith, Julia Kuzenkov, and Wendy Wei and Photo Illustration: Aly Lim
When you hear terms like "hot-girl hobby" and "'That Girl' workout," racket sports probably aren't the first things to come to mind. Chances are, you think of people doing reformer Pilates decked out in Lululemon, or those TikTok videos where people share the stylish outfits they're wearing to adult ballet class. These days, adopting a fitness routine or practicing a sport for leisure is extremely popular, especially when there's a big emphasis on dressing cute while working up a sweat. More recently, however, racket sports like padel, pickleball, racquetball, and tennis — along with their accompanying "tenniscore" aesthetic — seem to be dominating the space.
Having the skills to back up your style (and vice versa) is a major flex, but the trend is more about people finding a way to exercise that's equal parts effective and enjoyable.
Although "That Girl" on your TikTok seems to have just discovered them, racket sports are nothing new. And though they have an undeniable link to the upper crust, racket sports are for everybody. Many public community parks have first-come-first-serve courts, and anyone who owns a gym membership can realistically reserve rackets and court time. But add the iron-pressed polos, crewneck sweatshirts, and pleated white skirts, and suddenly playing racket sports becomes a status symbol associated with old money and country-club exclusivity. The preppy outfits that go along with playing racket sports have been around for decades, but only recently have they taken center stage with a larger crowd. What used to function exclusively as athletic apparel has now been turned into couture by designers and retailers like Miu Miu and Saks Fifth Avenue. Even the tennis company Wilson collabed with luxury streetwear brand Kith to launch a collection of equipment and sportswear. And celebrities such as Bella Hadid, Beyoncé, and Hilary Duff have worn it everywhere from dinner in Santa Monica to grabbing lunch at Subway. So how did playing racket sports turn into a fashion statement?
Grace Thomas, founder and lead stylist of BuiltGracefully, says it was actually the result of two individual trends gaining traction at the same time. "The rise of tennis really started during COVID, when people were looking for ways to work out and socialize while maintaining their distance," Thomas explains to POPSUGAR. "While the trend for this type of exercise rose, early 2000s and late-'90s fashion started to become prominent." The coincidental overlap in the resurgence of both racket sports and Y2K looks is what ultimately gave life to what Thomas refers to as "court fashion."
The fact that tennis players are becoming increasingly famous for more than just their playing abilities has helped the tenniscore aesthetic remain relevant since it first began to trend in 2021. Serena Williams and Naomi Osaka, for example, are revered as style icons for what they wear both on and off the court, as well as important voices in collective discussions around motherhood and mental health. Their influence on popular culture is evident in TV shows and movies like "Do Revenge" and "The Summer I Turned Pretty," where tennis whites are as much of a fashion statement as they are an athletic uniform. But while fashion is an undeniable driving force for interest in racket sports, there's a bigger reason people end up fully committing to them as a hobby.
"We don't often get opportunities to run, jump, and play. This trend unleashed that need for many of us."
According to fitness expert and personal trainer Becky Codi, racket sports are extremely social in nature, especially when you play doubles or mixed doubles. Not only does the social element of racket sports make the workout fly by, but it also keeps people excited to come back for more. "We don't often get opportunities to run, jump, and play. This trend unleashed that need for many of us," Codi elaborates. Many people would rather play tennis or pickleball with their friends than do a traditional workout at the gym, and the games can be as leisurely or intense as you want to make them.
Racket sports, of course, aren't the only fitness trend that makes working out more enjoyable. People still choose activities such as dance cardio and yoga for the same reasons. When it comes to racket sports, however, Codi points out that they offer something more unique: friendly competition. "There's a sense of accomplishment that you don't get from standard exercise classes," she says. Getting in a solid workout is rewarding in itself, but when you add the prospect of winning a match on top of that, it's easy to see why racket sports have remained so popular.
In the past, tennis has been the go-to racket sport, but now more people are gravitating toward other games like pickleball and padel. The main reason, Disco Country Club founder Alyssa Carroll says, is accessibility. While court fashion is proof enough that you don't technically have to play tennis in order to experience it, people still want to get in on the action and do so in the most beginner-friendly way possible. "Games like pickleball are easy to learn and can be enjoyed by people with a range of athletic abilities, so it has become extremely popular. The fastest-growing group of new pickleball players are actually under 35 years old, and it's because the game is so active and fun, Carroll tells POPSUGAR. "You can play it for fun with a drink in hand or make it as competitive and challenging as you like." The smaller courts and lighter paddles and balls allow players to lean more into the recreational, social aspect of racket and paddle sports rather than athleticism alone. That combined with the affordable equipment and free public courts makes it an accessible way to participate in tennis culture.
No matter which racket sport you play, there's so much more to it than hitting balls back and forth across a net. With the reputation they've recently developed in the fashion world, racket sports have quickly become one of the trendiest ways to stay active. And since people are discovering the more approachable racket sports, such as pickleball, and the preppy dress code is becoming mainstream, it's easier than ever to hop on the trend and actually fit it into your lifestyle. If you want to switch up your usual workout routine, turn it into a social activity, or simply give tenniscore a try, playing a racket sport is just about the best way to go about it.
Having the skills to back up your style (and vice versa) is a major flex, but the trend is more about people finding a way to exercise that's equal parts effective and enjoyable — it's a bonus that it helps you look good both on and off the court.