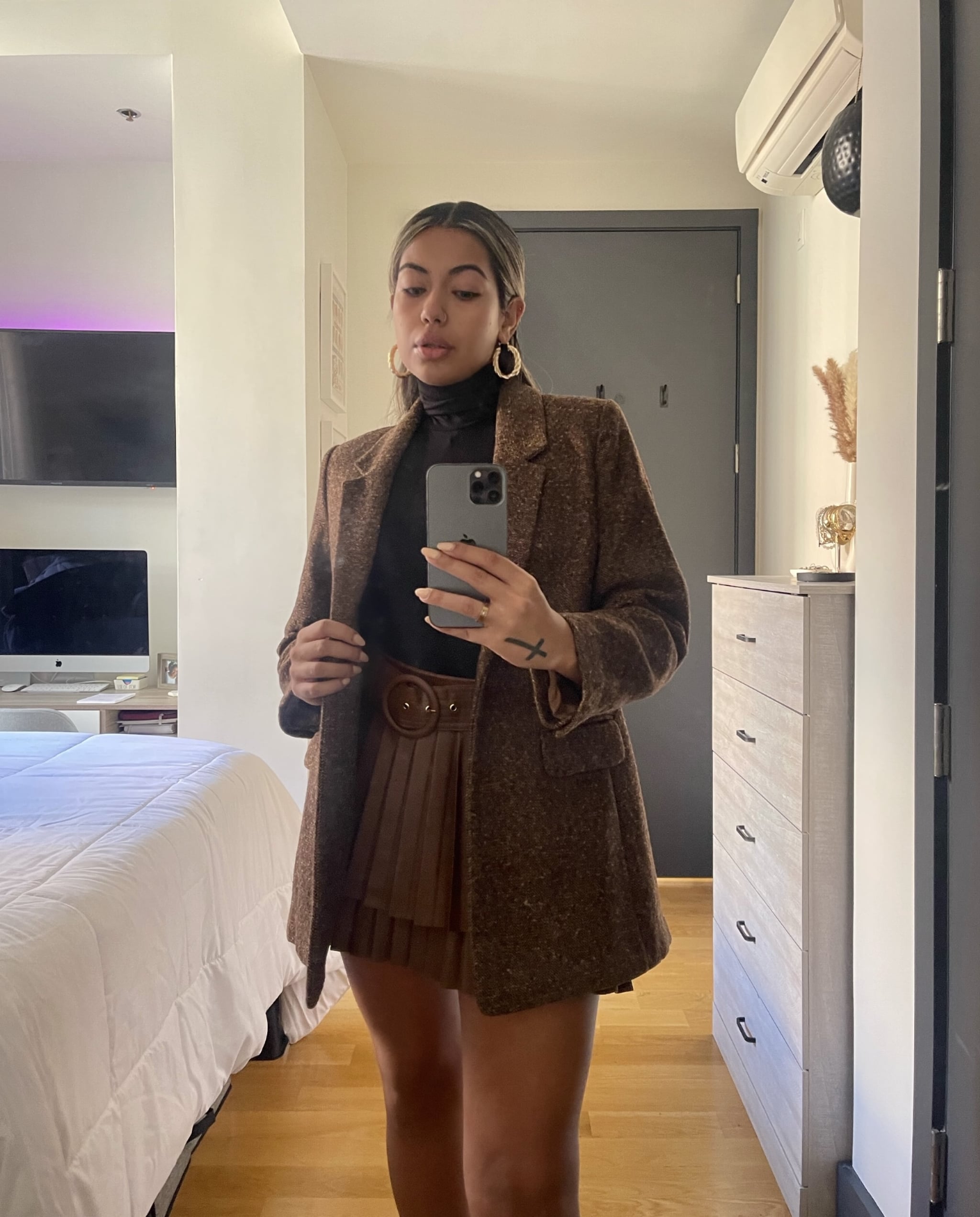 I'm a firm believer that everyone needs at least one good blazer in their closet — or, if you're anything like me, 10 good blazers. This fall, I'm committed to experimenting with colors out of my comfort zone and fabrics that I don't usually go for. Enter Old Navy's Soft-Brushed Oversized Blazer ($80). This jacket has it all, from comfort and an affordable price point to versatility and great quality. The brown tweed and oversize fit instantly caught my eye, and it's like nothing I've ever owned before. One thing is for certain: this blazer belongs in your closet ASAP. Keep scrolling for my honest review on my new favorite oversize blazer, and grab yours before it sells out. I can guarantee it'll liven up your wardrobe for this season.
What I Like About the Old Navy Soft-Brushed Oversized Blazer
I love how versatile this blazer is. The styling opportunities on this piece are endless, and I can guarantee you won't get tired of finding new ways to wear it all season long. Whether you're going for a more elevated look like I did or you're looking to pair it with your favorite pair of jeans for a casual night out, you'll always look effortlessly put together as temperatures keep dropping. Furthermore, the blazer has deep pockets perfect for holding all of my essentials: card holder, lipstick, and shades. What's not to love?
What's Worth Noting About the Old Navy Soft-Brushed Oversized Blazer
The most notable aspect of this blazer is its perfect boyfriend fit. At first I was hesitant to believe that it's truly oversize since past items have made me look too boxy, but that's not the case with this jacket from Old Navy. The blazer is roomy enough to layer during the winter, which I'm so thankful for since I live in New York, yet you can easily cuff the sleeves during the fall. Many Old Navy customers seem to agree. One even said, "Typically Old Navy clothing is too big or too small but this fit is perfect! If I were brave, I'd wear it as a mini dress." It's hard to resist how multipurpose the item is.
Another thing worth noting is that the blazer is partially lined and not fully lined. I honestly didn't mind this detail, and it explains the affordable price point. The fabric is way heavier than a basic blazer, but it doesn't feel itchy, and it's comforting to know that the material will not scratch my skin.
Who the Old Navy Soft-Brushed Oversized Blazer Is Best For
This Old Navy oversize blazer is perfect for the fashionistas looking to upgrade their fall wardrobe with budget-friendly pieces (under $100) that are chic yet elevated. The herringbone pattern along with the brown tweed is timeless, which works out perfectly if you love repurposing your seasonal items year after year (just like me). It's especially a great fit for those who aren't afraid of a little structure. Although the item is oversize, the shoulder area gives you a nice form that I'm not mad about.
Additional Details About the Old Navy Soft-Brushed Oversized Blazer
This blazer comes in two colors.
The fabric is 90 percent other, 10 percent wool.
It's available in sizes XS-4X.
It's machine washable; just make sure to use the cold, gentle setting.
The product has an oversize fit throughout the body.
Rating:
Image Source: POPSUGAR Photography / Indira Diaz