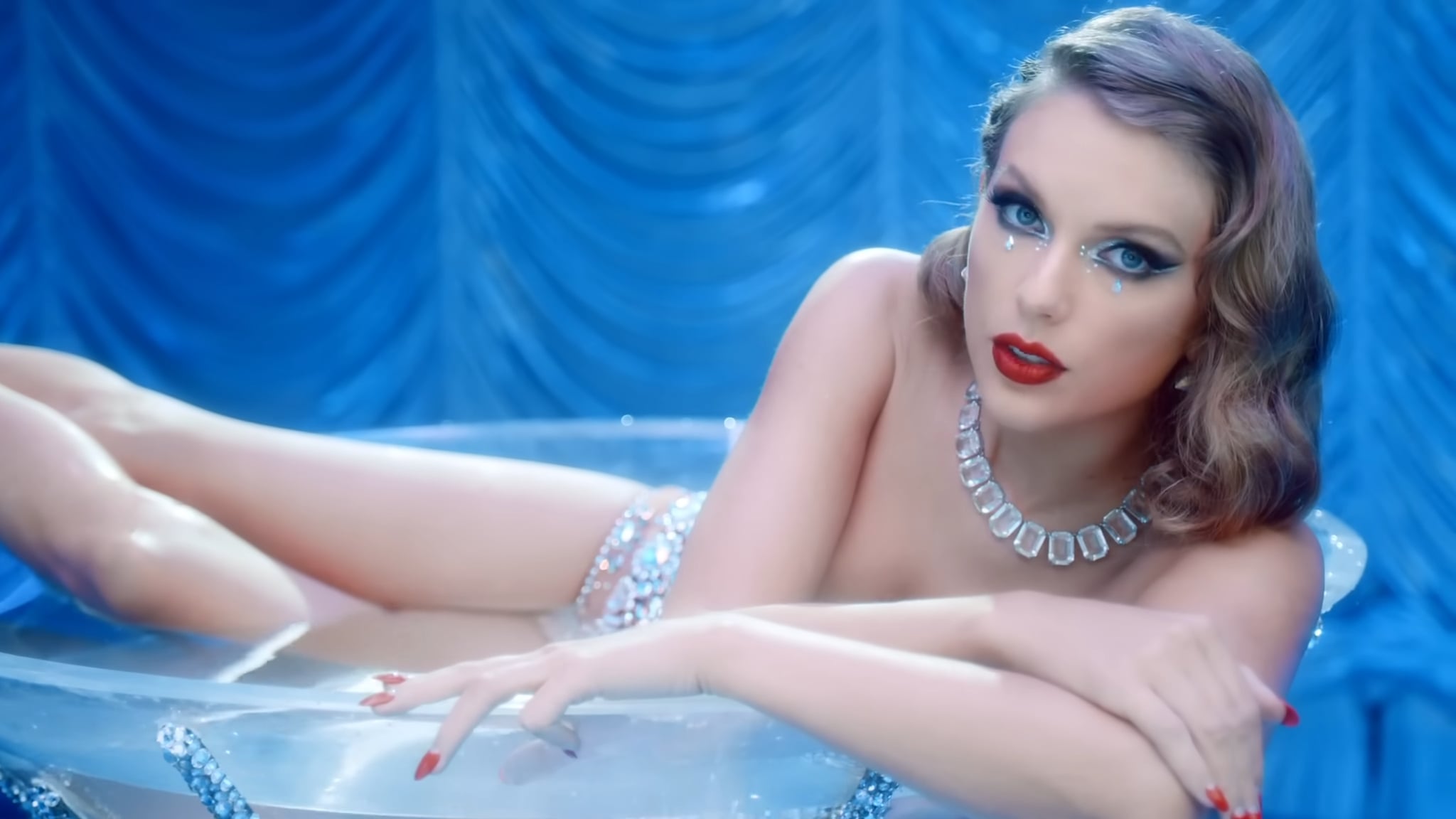 Image Source: Youtube user Taylor Swift
Taylor Swift's "Midnights" is here! The 13-track album — that actually has seven surprise songs on the special 3 a.m. edition — also includes music videos that she wrote and directed herself. When Swift released the album on Oct. 21, she also released the first video for "Anti-Hero," and there are more on the way. On Oct. 25, she released the video for "Bejeweled," and she told Jimmy Fallon that the video has a "psychotic amount" of Easter Eggs, and that she put them there specifically to delight fans.
As any veteran Swiftie knows, the singer loves to pack her songs and videos full of easter eggs, references, and callbacks to her own discography, people in her life, and some of her favorite things. Ahead, we're breaking down the "Midnights" easter eggs in the songs and the music videos for "Anti-Hero" and "Bejeweled."
Taylor Swift

's "Midnights" Lyrics Easter Eggs
1. "Lavender Haze"
Swift explained in an Instagram video that she first heard the term "lavender haze" during an episode of "Mad Men." "It turns out that it was a common phrase that was used in the '50s where they would just describe being in love. Like, if you were in the 'lavender haze,' that meant you were in that all-encompassing love glow, and I thought that was really beautiful." The phrase is used in a season three episode when Betty finally finds out Don Draper is really Dick Whitman and has been lying about his identity for years. All of this ties thematically into the song, in which Swift complains that people ask her 1950s-era questions and just want to know if she's going to get married.
2. "Tale as Old as Time" and Fairy-Tale References
In "Anti-Hero," Swift makes multiple references to fairy tales. "Tale as old as time" is, of course, calling back to "Beauty and the Beast." Later, she calls herself the "monster on a hill," making herself the beast in the scenario. Swift also mentions "teatime," a clear "Alice in Wonderland" reference, which Swift loves to make regularly in her song lyrics and videos. There are several references to the story in her new "All Too Well" music video, for example (more on that later). One of her songs off "1989" was called "Wonderland," and fans noticed callbacks to the classic story in the video for 2022's "I Bet You Think About Me."
3. "Sometimes, I Feel Like Everybody Is a Sexy Baby"
In an episode of "30 Rock" titled "TGS Hates Women," Liz Lemon gets into a fight with a new writer named Abby, who oversexualizes herself and pretends to be less intelligent than she is to appeal to men. Liz tells her to drop the "sexy baby" act. This line from "Anti-Hero" immediately evokes that moment.
4. "Now I'm All For You, Like Janet"
In this line from "Snow on the Beach," Swift (with help from Lana Del Rey) evokes Janet Jackson's hit pop song "All For You," which is about all-consuming love and lust and the joy when you give in to them.
[embedded content]
5. "Summer Went Away"
Swift sings this at the beginning of "You're on Your Own, Kid." She has quite a few songs about the joys and pains of summer love, including "Tim McGraw," "Cruel Summer," and "August."
6. Daisy Mae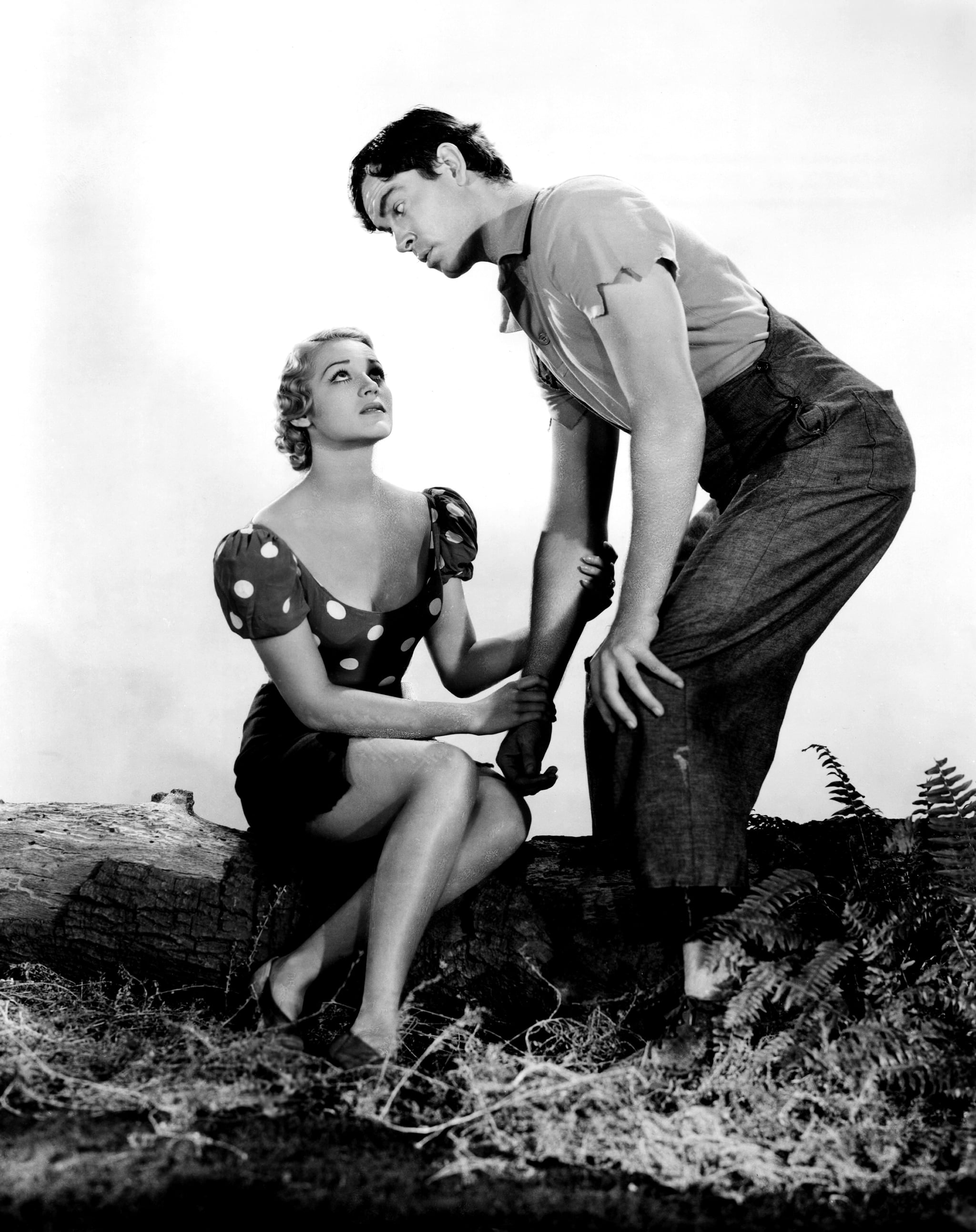 Image Source: Everett Collection
In "You're on Your Own, Kid," Swift sings "So long, Daisy Mae." Daisy Mae is the sweetheart of Li'l Abner in the long-running comic strip, the 1940 movie, and the 1956 musical of the same name. She dresses in a very sexy, retro pin-up style, with tiny shorts to show off her long legs. This is actually pretty similar to some of Swift's stage outfits, especially during the "Red" era. Daisy Mae also pines after Li'l Abner, who mostly ignores her.
"You're on Your Own, Kid" is about Swift realizing that someone doesn't care for her and she's not going to pine for them any longer — thus, "So long, Daisy Mae."
7. "Some Kind of Haunted"
In "Midnight Rain," Swift sings about an ex who's haunted when he sees her on TV. She used the same metaphor in her song "Haunted" on "Speak Now."
8. "Did You Ever Have Somebody Kiss You in a Crowded Room?"
In "Question . . . ?" Swift asks, "Did you ever have somebody kiss you in a crowded room / And every single one of your friends was makin' fun of you / But 15 seconds later, thеy were clappin' too?" It's the inverse of some of her love songs on "Reputation." In "Dancing With Our Hands Tied," the lovers can dance but not together, lest everyone knows. And in "Dress," she sings, "Our secret moments in your crowded room" and that onlookers have "no idea" what's going on. In this song, they don't keep it a secret, but they regret it.
9. "Did All the Extra Credit, Then Got Graded on a Curve"
In this line from "Bejeweled," she evokes similar lyrics from "This Is Me Trying": "I was so ahead of the curve, the curve became a sphere." The song's title also evokes another "Folklore" song, "Mirrorball" — in both songs, Swift is glittering, shining, sparkling, but it's just a disguise over her real feelings. Swift also calls herself an "ever lovely jewel" in the 10-minute version of "All Too Well."
10. "Karma Is a Cat / Purring in My Lap 'Cause It Loves Me"
Swift evokes her three cats — Meredith, Olivia, and Benjamin — in this funny lyric in "Karma." She also mentioned her cats in 2017's "Gorgeous."
11. "Does It Ever Miss Wicklow Sometimes?"
In "Sweet Nothing," which Swift wrote with her boyfriend, Joe Alwyn, she evokes Wicklow, the place in Ireland where he filmed the TV series "Conversations With Friends." Swift was spotted on vacation in Ireland in July 2021, as the song says.
12. "Mastermind"
"Mastermind" is sort of a rebuttal to Swift's "Invisible String." That song — and the opening lyrics of "Mastermind" — are all about fate bringing Swift and Alwyn together. But "Mastermind" posits it was her plan all along, and she made it happen.
13. "Did Some Bird Flap Its Wings Over in Asia?"
With this line in "Bigger Than the Whole Sky," Swift evokes the Butterfly Effect — the idea that something happening far away from you could change the trajectory of your whole life.
14. "High Infidelity / Put on Your Records and Regret Me"
Image Source: Everett Collection
Swift's "High Infidelity" is a reference to the book, movie, and TV series "High Fidelity." The song tells the story of a person who's more obsessed with their record collection than the people they're dating. In the book and movie, that person is a man, but in the TV series, Zöe Kravitz steps into the role. Kravitz wrote one of the songs on "Midnights" (though not this one).
15. April 29th
In "High Infidelity," Swift asks "Do you really wanna know where I was April 29th?" It's a bit of a self-fulfilling question, because now everyone wants to know what happened on April 29th. There are a couple possible explanations. In 2012, Swift attended Dianna Agron's birthday party that day. In 2014, she was spotted by paparazzi out shopping in New York on that date. In 2016, her then-boyfriend Calvin Harris released his then-new single "This Is What You Came For" with Rihanna that day. Eventually, Swift would be revealed as a cowriter on the track. Swift was at Gigi Hadid's birthday party when the song was released. In 2018, Swift chose April 29 to share a photo of her rehearsing for her "Reputation" tour, her most recent tour. Which of these April 29ths is the April 29th referenced is anyone's guess.
Taylor Swift's "Anti-Hero" Music Video Easter Eggs
1. "Alice in Wonderland"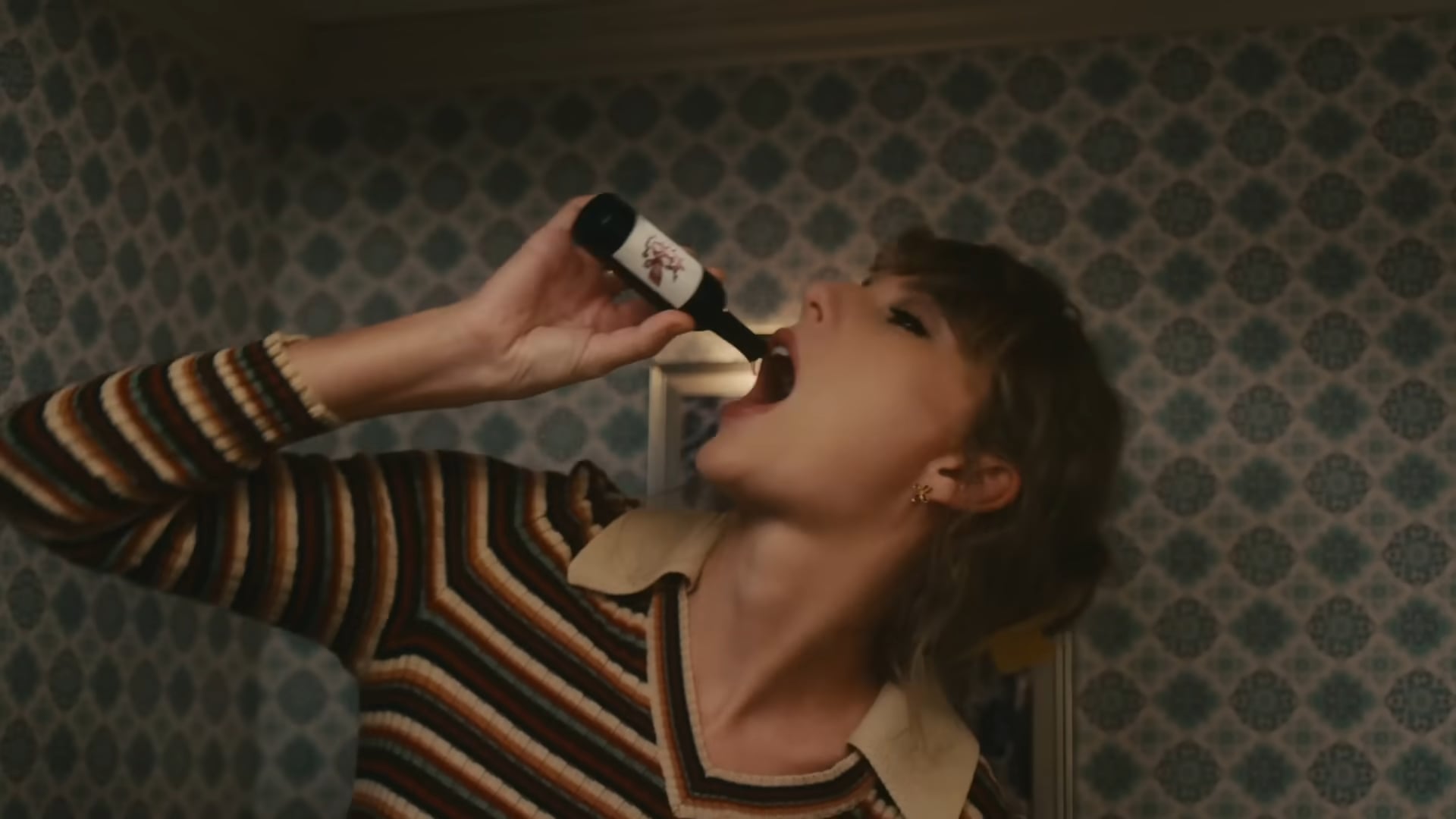 Image Source: Youtube user Taylor Swift
In the video, Swift, once again, plays with Alice iconography, as she turns into a giant form of herself who has to crawl into a dinner party. She drinks from a wine bottle that's super small in her hands, mimicking Alice drinking from her little potion.
2. Snakeskin Boots
Image Source: Youtube user Taylor Swift
In the "Anti-Hero" video, Swift is visited by the worst version of herself, who encourages all her bad habits. The second Swift is wearing snakeskin boots, a callback to Swift's "Reputation" era where she used snake iconography all the time. The worst version of Swift, then, is this revenge-obsessed version from 2017.
3. The "Fearless" Dress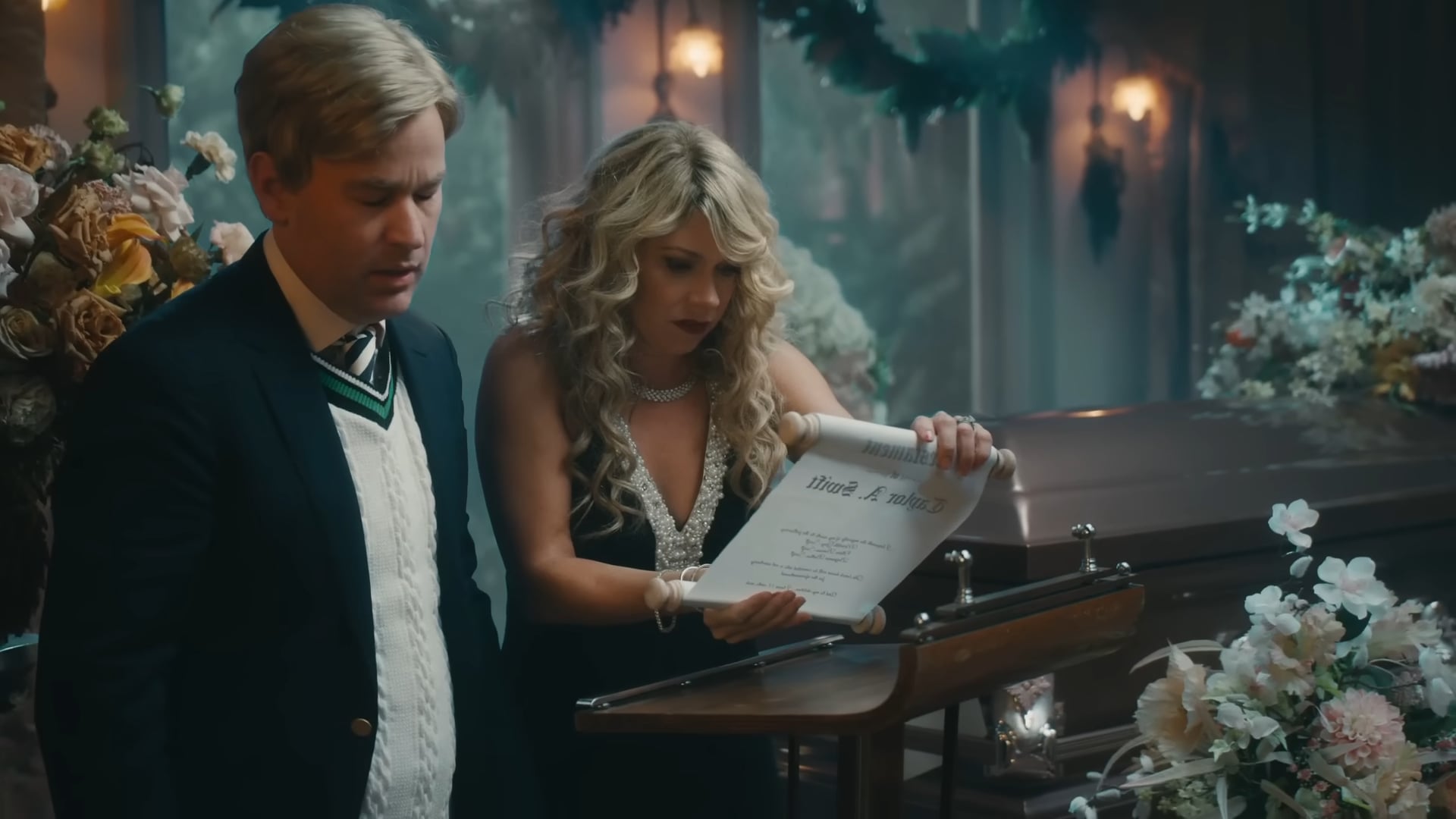 Image Source: Youtube user Taylor Swift
During Swift's fantasy funeral, her sons (Mike Birbiglia and John Early) and daughter-in-law (Mary Elizabeth Ellis) fight over her will, which they've been excluded from. They all accuse each other of profiting off of Swift's fame. The man point out that Ellis is literally wearing a dress from Swift's "Fearless" era. Swift is wearing that dress on the cover of the "Fearless (Taylor's Version): The Kissing in the Rain Chapter" compilation.
4. The Scale
Image Source: Youtube user Taylor Swift
Back in 2020, Swift opened up about her struggles with an eating disorder in her documentary, "Miss Americana." Swift references this struggle in the "Anti-Hero" video when she steps on a scale in the bathroom and it tells her she's "fat."
5. Hidden Messages
Image Source: Youtube user Taylor Swift
When the family read the will and find out they're not included, Early says, "There's probably a secret encoded message that means something else." But Swift added something to the will, too: "P.S. There's no secret encoded message that means something else." Swift is poking fun at herself for always including little messages and her fans for looking for them in literally everything she releases. In the video, Swift also leaves her kids something: 13 cents. Swifties know that's her favorite number.
[embedded content]
Taylor Swift's "Bejeweled" Music Video Easter Eggs
1. The Instrumental From "Enchanted"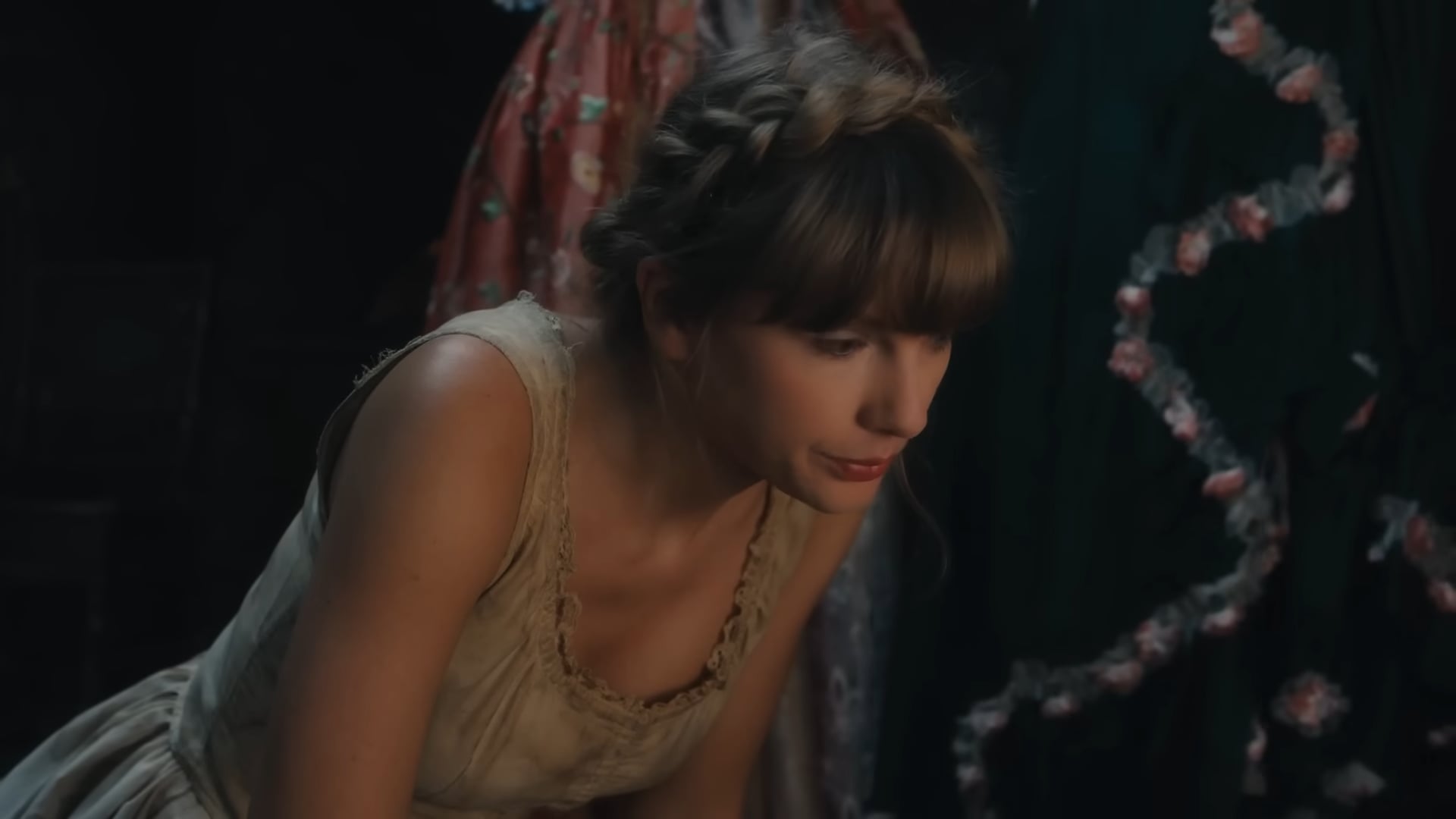 Image Source: Youtube user Taylor Swift
At the beginning of the video, Swift, as a Cinderella-type character, cleans the floor while her evil stepsisters — played by her friends Danielle, Este, and Alana Haim — and her evil stepmother (Laura Dern) berate her and mock her for not being able to attend the prince's ball. In the background over this segment, viewers can hear the strings from Swift's "Enchanted," a song from her 2010 album, "Speak Now." This is not the only Easter egg in the video that points toward "Speak Now," which could be her next rereleased album. "Enchanted" plays with the idea of love at first sight and the packaging and tour for the album all had to deal with fairytale aesthetics.
2. The Proposal Offer
Image Source: Youtube user Taylor Swift
Dern explains that the prize for the ball is winning a proposal from the prince and your own castle. Dern says a proposal is "the single most defining thing a lady could hope to achieve in her lifetime." "Midnights" is full of references to the pressure Swift feels from others to get married, and this line ties into those ideas from "Lavender Haze" and "Anti-Hero."
3. Laura Dern's Rings and Necklaces
Image Source: Youtube user Taylor Swift
Dern shows off all the "engagement rings" she's received — eight in total. Combined with her five necklaces, that adds up to Swift's favorite number, 13. But at least some of the rings seem to match up to Swift's albums. One of the rings looks like the "Red" ring that Swift sold during the "Red" rerelease. The giant pink ring looks like an Easter egg for "Lover," and the black one could be tied to "Reputation."
4. "Speak Not!"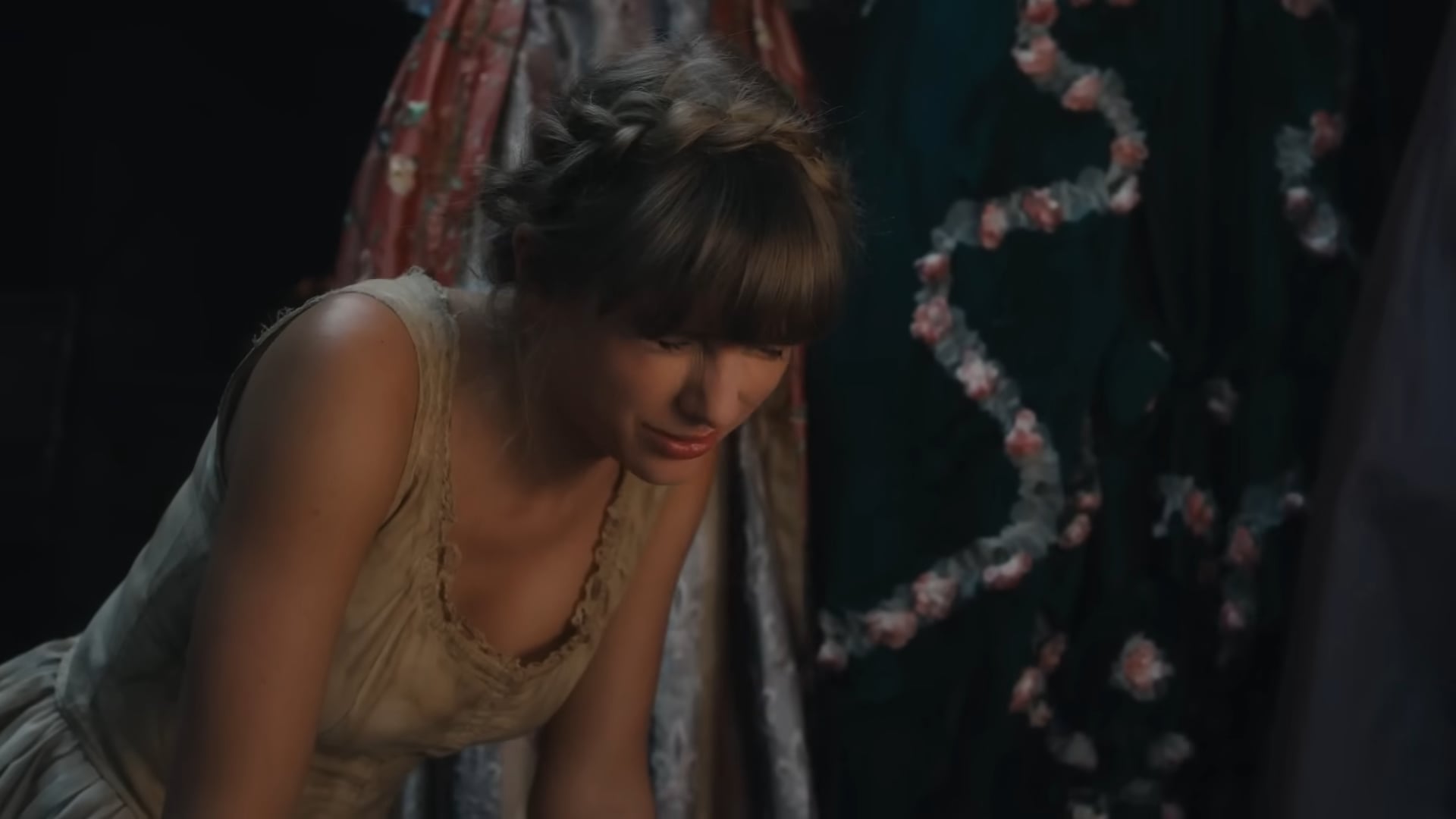 Image Source: Youtube user Taylor Swift
What did we say about "Speak Now" references? Dern literally tells Swift, "Speak not!" — the opposite of speaking now.
5. "You've Been Exiled Here"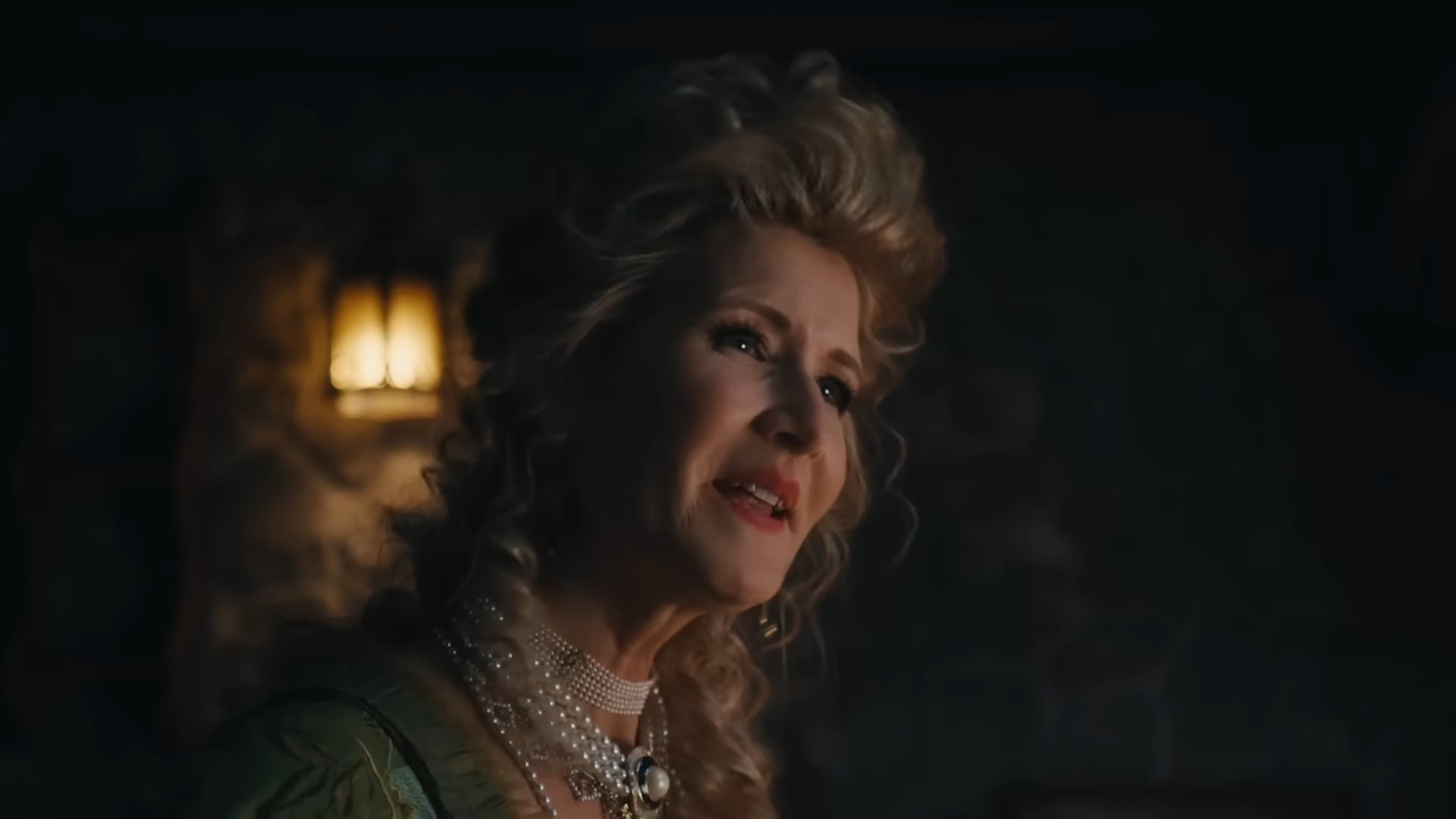 Image Source: Youtube user Taylor Swift
Dern tells Swift she's been "exiled" to the basement for being such a "harlot." Swift has a song called "Exile" on her 2020 album "Folklore," a collaboration with Justin Vernon.
6. "Bye, Bye, Snake"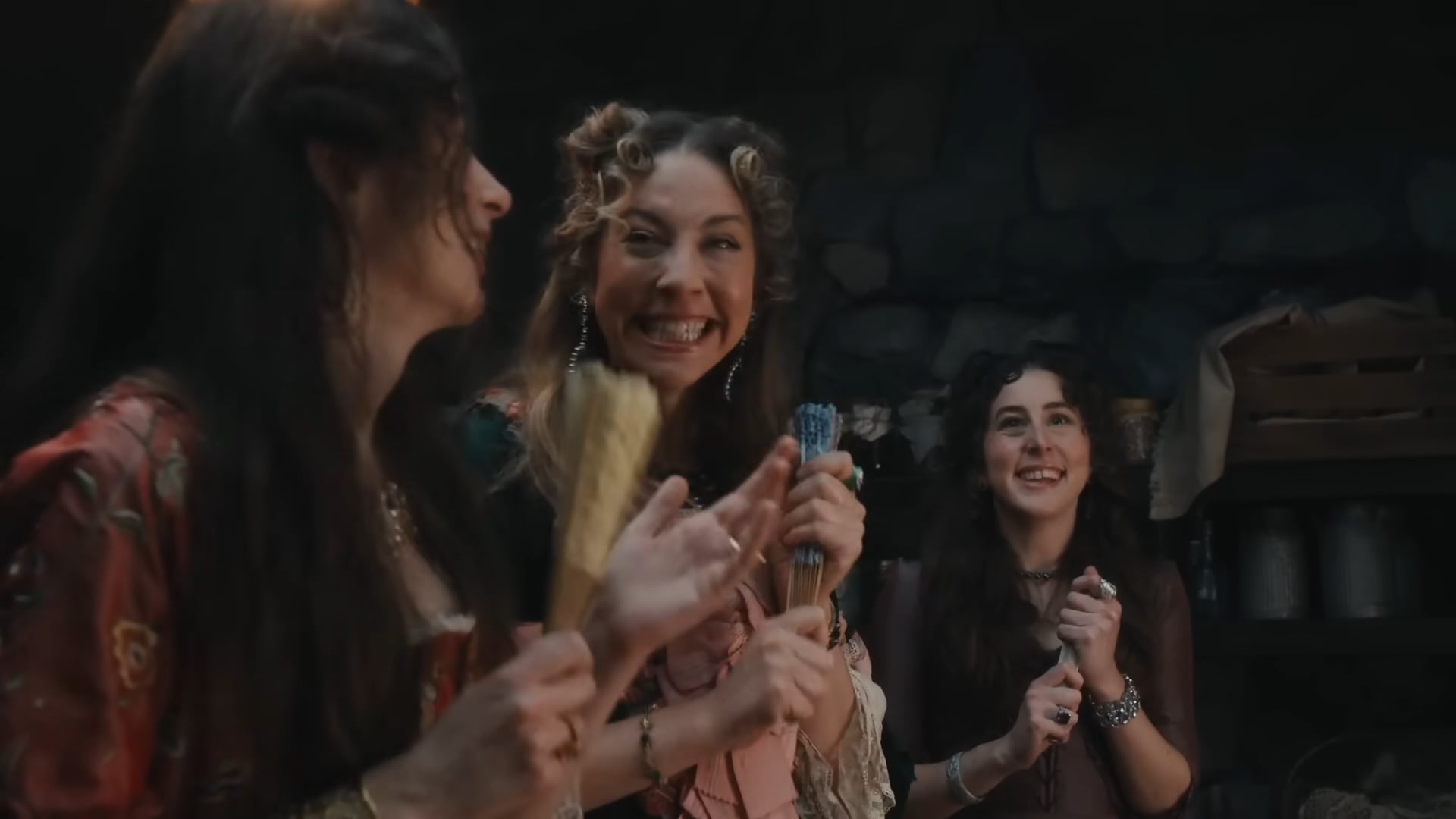 Image Source: Youtube user Taylor Swift
The Haim sisters tell Swift, "Bye, bye, snake" as they leave. When Swift was in her feud with Kim Kardashian, Kardashian's supporters flooded her social media accounts with snake emojis. Swift ended up reclaiming the snake during her "Reputation" era, and she featured large snake statues during her tour.
7. Jack Antonoff's Portrait
Image Source: Youtube user Taylor Swift
The basement Swift is exiled to features a portrait of the prince, Jack Antonoff. The painting features a pile of kittens and cats, which are Swift's favorite animals.
28. The Haim Sisters' TikTok Song
As the Haim sisters leave, they sing, "I'm gonna be hungover. I'm gonna be hungover. I'm gonna drink a bunch of different drinks and I'm gonna be hungover." It's a fun song they came up with on their TikTok account in March 2022 when they attended the Oscars (Alana starred in "Licorice Pizza," which was nominated in three categories).
9. Taylor's Pocket Watch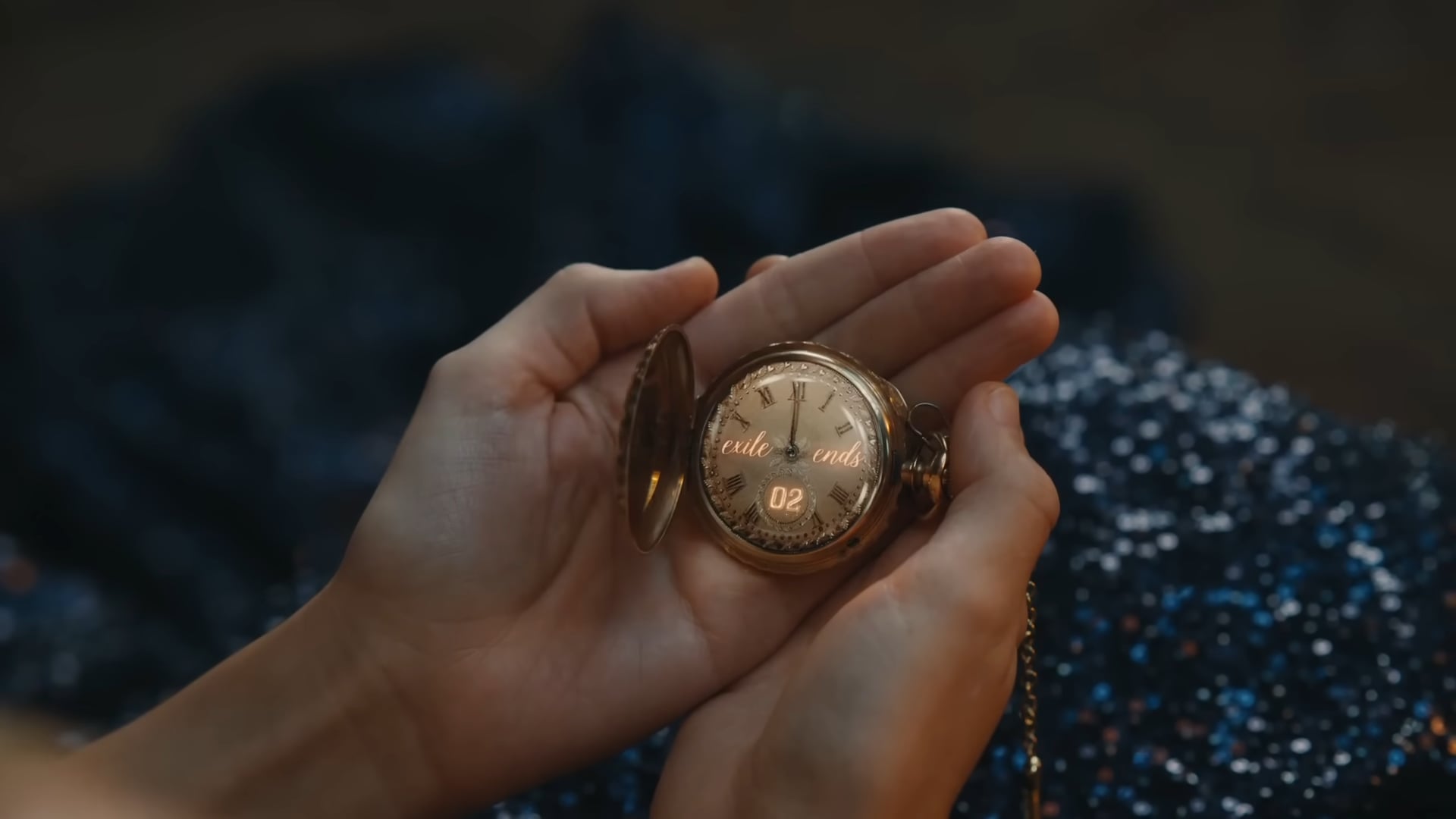 Image Source: Youtube user Taylor Swift
Swift takes out her pocketwatch, and it turns out her exile ends at midnight, a callback to the album's title. Cinderella, of course, had to go back home at midnight, but that time of night is good for Swift.
10. Taylor Swift's Black Hood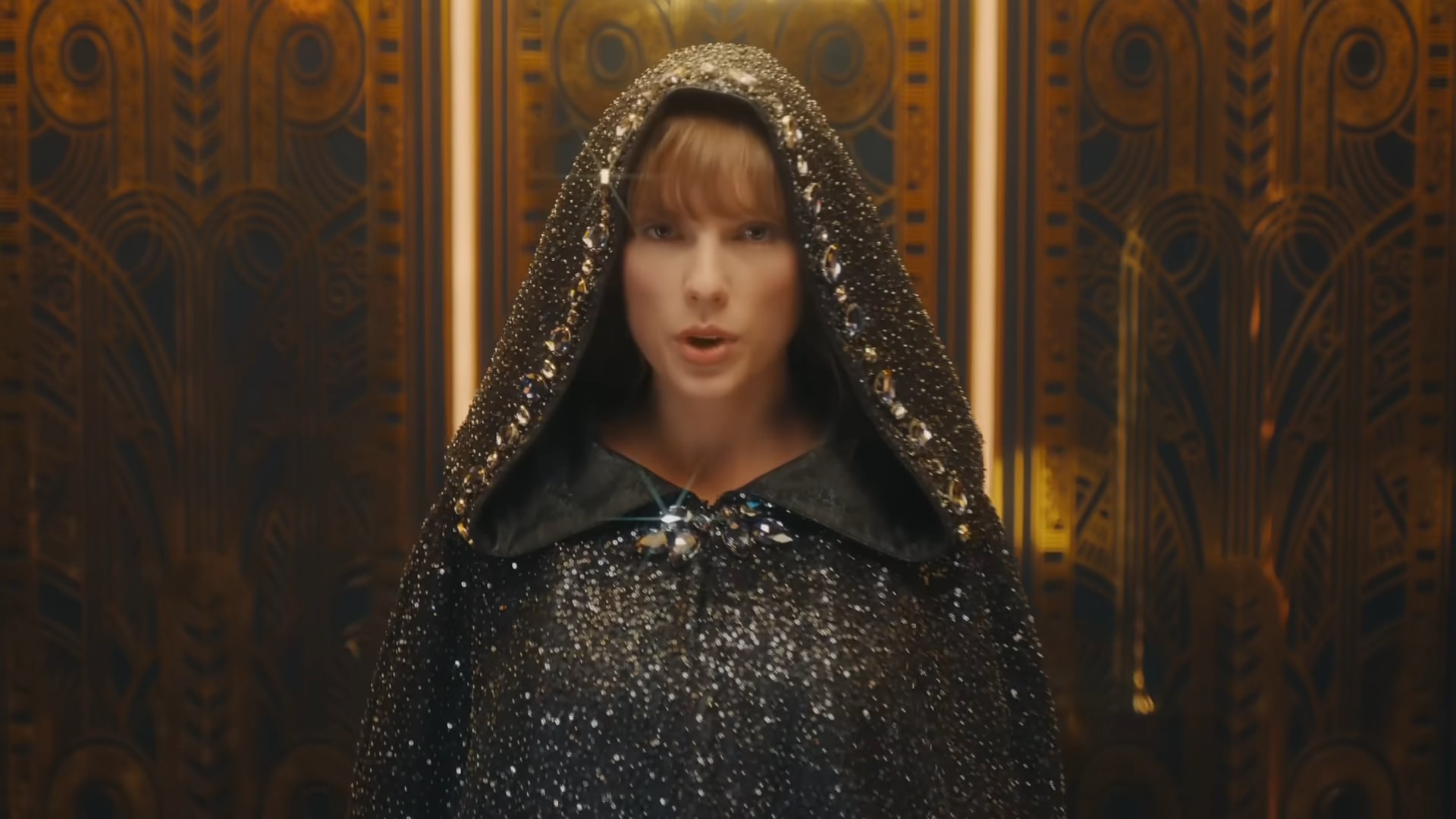 Image Source: Youtube user Taylor Swift
Swift puts on a dramatic black hood as she enters an elevator. It's very similar to the hood she wears in the video for "…Ready For It?" That song is a 2017 track off of "Reputation." The elevator itself also is similar to the hotel Swift dances in during the "Delicate" video, which is also a "Reputation" song. If you're keeping track of re-recordings, Swift can record that album again starting this November.
11. The Elevator Goes to 13
Image Source: Youtube user Taylor Swift
In the elevator, there are buttons for 13 floors, another appearance of Swift's favorite number. The first floor she stops on is the third; "Speak Now" is the third Swift album.
12. Taylor Swift's Necklace
Image Source: Youtube user Taylor Swift
Swift decks herself out in jewels, and one is a dangly necklace with different colored gems. It's very similar to the bejeweled bracelet she started selling in her merch store way before the album was released. Fans believe each gem represents an album.
23. Dita Von Teese's Martini Glasses
Image Source: Youtube user Taylor Swift
Swift enters a room where Dita Von Teese teaches her a little burlesque. Then she reveals two giant martini glasses. They're a classic in the burlesque world, and they're an iconic part of Von Teese's act They perform Von Teese's copyrighted "Girl in the Glass" choreography.
14. Portraits of Zöe Kravitz and Sam Dew
Image Source: Youtube user Taylor Swift
The queen at the ball is Pat McGrath, and she has two portraits behind her of Kravitz and musician Sam Dew. Both are cowriters on "Lavender Haze." The teaser for Swift's music videos did feature some lavender smoke, so it could be a clue that "Lavender Haze" is the next video, but it could also just be a tribute to her friends and collaborators.
15. Swift's Castle and the 3 Dragons
Image Source: Youtube user Taylor Swift
At the end of the video, Swift is happy, alone, in her castle. The way she walks out on the balcony is reminiscent of the commercials for Swift's "Wonderstruck" perfume, which were soundtracked with "Enchanted." A pan out reveals that the castle is surrounded by three dragons. The instrumental to her song "Long Live" plays in the background. That song includes the lyrics, "I had the time of my life fighting dragons with you." "Long Live" is also from "Speak Now." Swift is also famously a "Game of Thrones" fan, and she said that her 2017 song "King of My Heart" was inspired in part by Daenerys Targaryen and Khal Drogo. Dany has three dragons, so Swift's three might be a little tribute to her.
[embedded content]