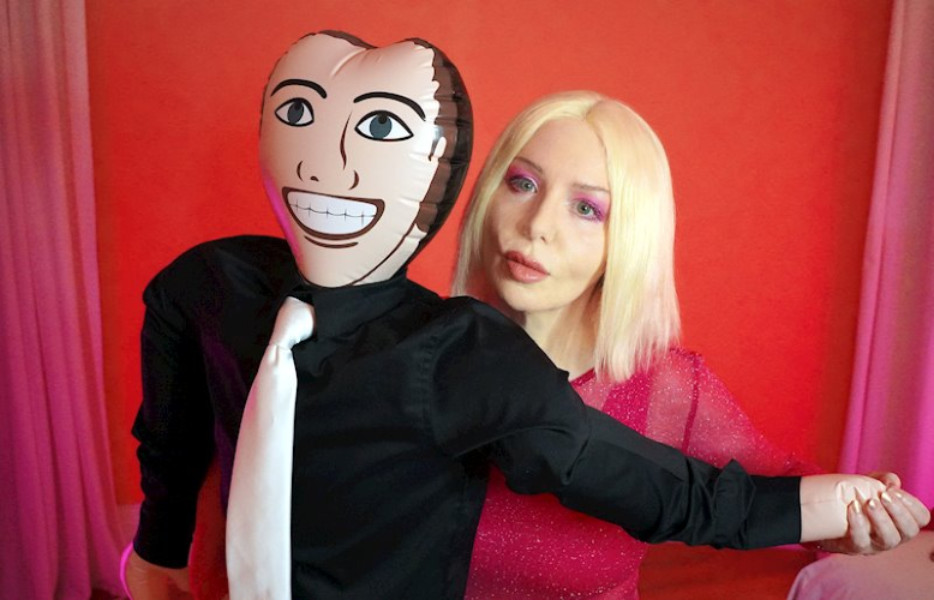 Alt-pop livewire Jenn Vix introduces her new single/music video, "Mr. Strange," a song about her adventures with a male blow-up doll, via Umbrella Music.
Vix explains, "'Mr. Strange' is an Indie Pop/Trap banger, about a woman who has a lot of fun with a male blow-up doll. You can leave the rest up to your imagination."
A multi-instrumentalist, Vix's first professional performance was singing backing vocals in the band Disco Donut, which included Nicole Willis, Adam Horovitz of The Beastie Boys (bass), Phil Paison (drums), and David Strahan (guitar).
Vix broke through to national fame with the release of her self-titled album. Rolling Stone praised the album. Since then, Vix has collaborated with musicians such as Reeves Gabrels (David Bowie, Tin Machine, The Cure) Andy Anderson (Iggy Pop, The Cure) John Ashton (The Psychedelic Furs), Dave Barbarossa (Adam and the Ants, Bow Wow Wow) Marco Pirroni (Adam and the Ants, Adam Ant, Rema Rema, Sinead O'Connor, Shakespeare's Sister), Ali Score (A Flock Of Seagulls) Rodney Anonymous (Dead Milkmen) and Dirk Ivens (Absolute Body Control, Dive, The Klinik).
Difficult to pigeonhole into a single genre, Vix's sound may be described as alt-pop, electro-rock, synthpop, modern new wave, and funky alternative. Yet it's her unique voice that sets her apart, a voice vaguely reminiscent of Annie Lennox's edgy, velvety tones and the sumptuous contralto of Florence Welch.
"Mr. Strange" opens on eerie, luminous colors riding a measured, trap rhythm as gleaming, twinkling leitmotifs travel overhead. Vix's high, translucent voice imbues the lyrics with dreamy, sensuous timbres, with tints of risky Siren-like textures.
"Alone in the night, nothing felt right / Then he arrived in a cardboard box / His plastic skin, sinking in, sinking in, take me away from reality / Mr. Strange, Mr. Strange, we've got a thing, we've got a thing / Honey watch me slippin'! / Mr. Strange, Mr. Strange, oh you're so debonair / Your cold fingers in my hair."
With "Mr. Strange," Jenn Vix parades her mystical, bravura voice and her innate talent for writing singularly imaginative music.
Follow Jenn Vix Instagram | Twitter | Facebook | TikTok | Spotify