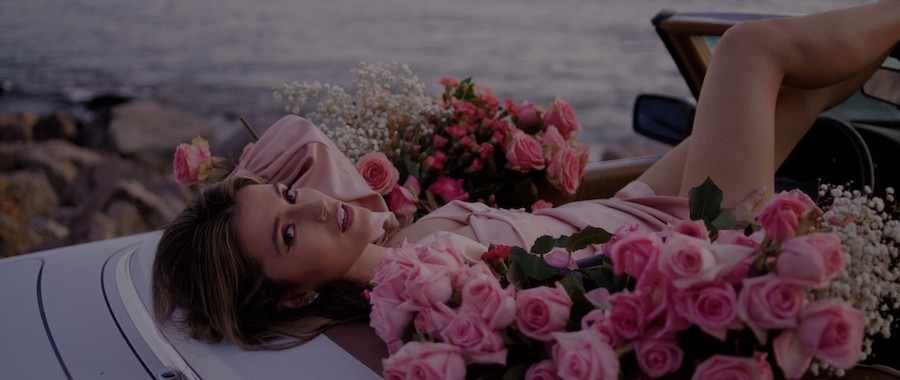 Los Angeles based, multi-platinum, singer songwriter Mimoza brings forth rose-colored reflectiveness and retroactive romance on her latest soul-seeking single "Madly". "Madly" channels Mimoza's pastel pop aesthetic with new depths of emotional integrity and honest grit.
Mimoza combines rustic, raw guitar riffs and emotional matter with pristine, refined vocals for a blend that is equally poised and powerful on her latest single. She explores the hypothetical "what if's" that follow heartbreak through thought provoking lyricism and empowered tone. Mimoza reflects, "Did you even know you had me, ready to love you madly?" The music video absorbs Mimoza in a pool of rose-tinted romance as she reflects on the gravity of love in a sequence of serenity. She chronicles her journey through pastel sunset vignettes in a bathtub full of rose petals, on a lonesome beach, and looking out toward the horizon in her vintage white Mercedes. "Madly" is an anthem for reconnecting with the self, accepting a relationship that didn't work out with grace, and emerging into truth. Mimoza stuns as a shockingly raw vocalist with integral arrangement and lyrical vulnerability.
Mimoza is a Los Angeles based pop artist signed with Universal Music Group who has reached more than 100 million streams across platforms. She is a successful songwriter who co-wrote Ava Max's Billboard Platinum Charting "Kings and Queens" (Platinum in 12 different countries, No. 1 on the U.S. Airplay Charts, and 650 million streams to date). Mimoza is the 2021 ASCAP Pop Music Award Winner with humble grit and rising ambition. "Madly" is her latest single and the the next step in Mimoza's empowered pop career.
Listen to Mimoza's Rustic, Refined Pop Anthem here and tweet @celebmix your favorite part!