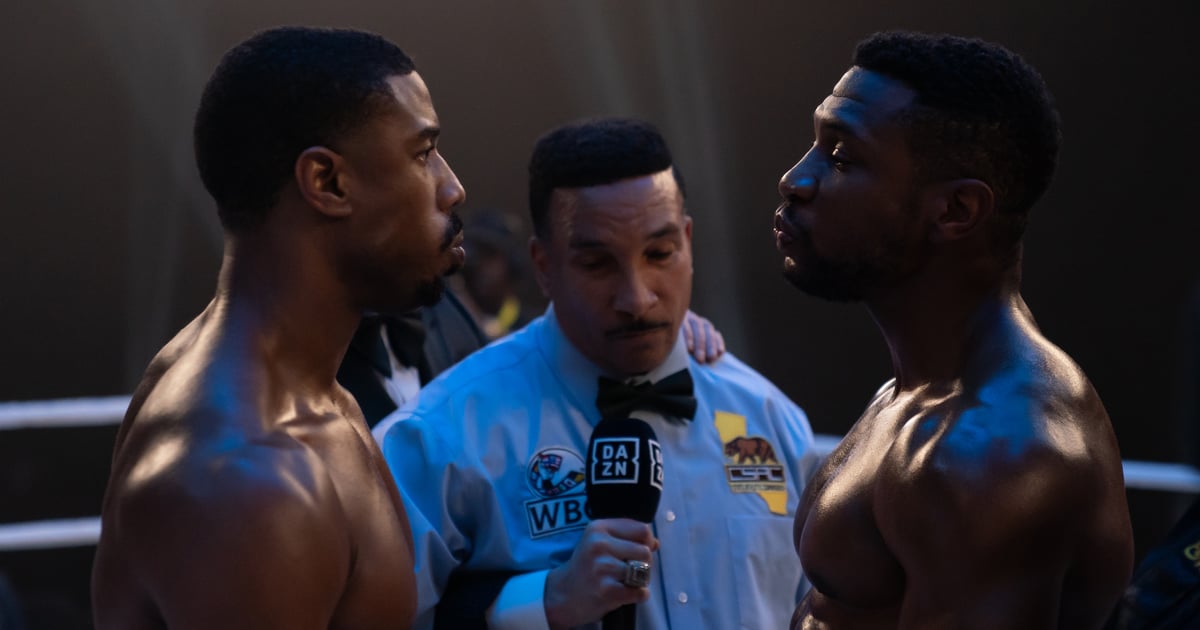 "Creed III" has finally unveiled the official trailer for the highly anticipated film starring Michael. B. Jordan and Jonathan Majors. On Oct. 18, MGM released the two-minute clip that shows a time jump to the glamorous future of Jordan's Adonis Creed years after he successfully defended his heavyweight championship title. However, this time, he finds himself facing off against a new challenger — Jonathan Majors's Damian, a childhood friend who's come to collect an old debt.
In the film's trailer, Damian pops back up in Adonis's life 18 years after he got locked up, and he's looking to train with the world-renowned boxer. But along the way, jealousy and a personal grudge get between the two and it leads to an epic showdown in the ring. Now, the big question on everyone's mind: Will Adonis come out on top again or will he stain his near-perfect record with a new loss?
"We wanted to make sure we grew up and still doubled down on the things that people expect and love from this franchise, but also take them to new places."
We last saw Adonis in "Creed II" following his victory against Viktor Drago (Florian Munteanu) — son of Ivan Drago (Dolph Lundgren), aka the man responsible for killing Adonis's father, Apollo Creed, in his final match. Years after Apollo's death, Adonis continues to build the name he's making for himself in the boxing world, especially now that he's the father. Though "Creed III" will not see Sylvester Stallone reprise his role as Rocky Balboa — who he famously played in the "Rocky" franchise — aka Adonis's trainer in the first two "Creed" films, his absence will surely propel Adonis's story forward as he cements his boxing legacy on his own.
During a press conference for the "Creed III" trailer launch, which POPSUGAR attended, Jordan — who's making his directorial debut with the franchise's third installment — shared why he chose Adonis's tale for his first time behind the camera. "I think for me it was the perfect time," he said. ". . . To be able to tell a story of where I believe Adonis is at, and also at 35 years old, I had a lot to say as a young man — as a young Black man. My life experiences and how I could actually share a piece of myself with the world, through these characters and through this story. So I just felt like it was the right time."
Jordan also mentioned that he got a bit of directing advice from Ryan Coogler — who directed the first "Creed" film. "I was talking to Ryan back when we were doing "Creed" I and he was just like, 'It's never the right time. You just gotta jump in the deep end and go for it,'" he shared. "He gave me a lot of encouragement."
Jordan went on to share what viewers can expect from "Creed III" once it hits theaters in the spring — including who's behind the movie's soundtrack (spoiler alert: it's J. Cole's Dreamville label). "You're going to hear a lot of new sounds [and] artists that people are familiar with," he said. ". . . We have Dreamville executive producing the soundtrack with J. Cole. That's another big piece to this [movie], within the storytelling throughout the soundtrack . . . We wanted to make sure we grew up and still doubled down on the things that people expect and love from this franchise, but also take them to new places."
A day before "Creed III"'s trailer debuted, the film revealed official posters of Jordan and Majors all dressed up in their boxing gear ready for their face-off. The former shared his "Creed III" poster across his social media pages with the text, "You can't run . . ." on it. Majors's poster finishes the phrase with, ". . . From your past" — a major hint at the third installment's plot.
Jordan and Majors were spotted on "Creed III"'s set in March as photos of the two made their way to social media. In particular, shirtless snaps of Majors that caused quite the stir online. Of working with Majors on "Creed III," Jordan said during the film's press conference, "[He's] incredible. Very, very blessed and lucky to have him be a part of this story . . . Me and him bonded in a way that I never had an opportunity to . . . I really understand that now, and it's a bond that'll last forever."
Read ahead for everything else we know about "Creed III," including the trailer, plot, new and returning cast, and release date.