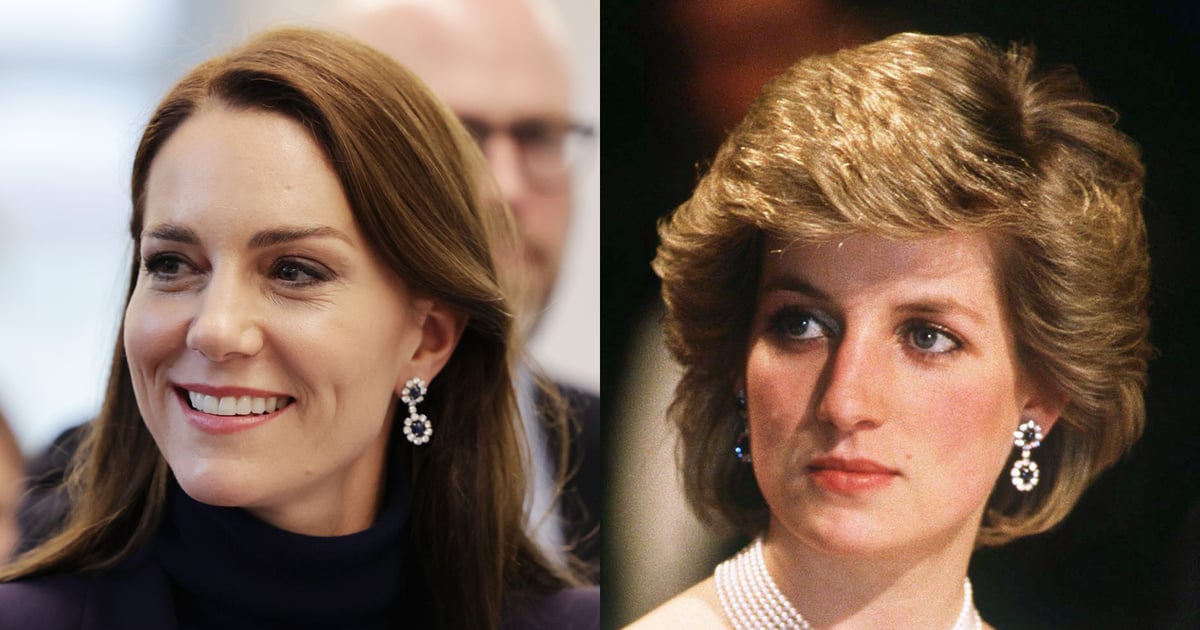 As POPSUGAR editors, we independently select and write about stuff we love and think you'll like too. If you buy a product we have recommended, we may receive affiliate commission, which in turn supports our work.
Kate Middleton and Prince William are spending a quick three days in the United States for a tour that is focusing on the environment and climate change. Touching down in Boston, Massachusetts on Wednesday, Nov. 30, Middleton is already using her wardrobe to pay tribute to her late mother-in-law, Princes Diana. In a deep aubergine Alexander McQueen suit and coordinated turtleneck underneath, Middleton tucked her hair behind her ears to show off a pair of the late royal's iconic two-tier sapphire and diamond earrings.
The earrings feature a double sapphire and diamond cluster; one hanging from the other with a single diamond suspended between each. Each cluster is made up of a cabochon sapphire center stone and diamonds around the outside (the top boasts eight diamonds, white the bottoms are surrounded by nine).
This is not the first time that Middleton has worn these stunning drops. Back in June of this year, she was seen wearing the same pair at the annual Trooping the Colour event that stood as part of a birthday celebration for the late Queen Elizabeth II.
While Diana herself wore the earrings on multiple public occasions, she owned two pairs that looked remarkably similar. It has been widely mis-reported that these earrings Middleton took to Boston are the very same that the late princess chose for memorable appearances such as a 1985 dinner at the White House, where she famously danced with John Travolta. Though they have comparable features, those double clusters feature larger sapphires; additional diamonds around the sides; and the jewels graze each other edge-to-edge, without diamonds separating them.
As for the rest of Middleton's Boston wardrobe, she has continually leaned into the fall season, sporting a green tartan Burberry dress, forest-green Alexander McQueen coat, blue vintage tweed Chanel Blazer, and more. Ahead, see all of Middleton's looks from the US tour so far.