If you're both Pokémon and Ed Sheeran aficionados just like us, then you're in for a delightful treat, as the enchanting worlds of gaming and music have collided to give you the colossal experience known as "Celestial." Pokémon mega-fan and award-winning global music phenomenon Ed Sheeran, has released his new song "Celestial" in a unique collaboration with Pokémon, with the track set to feature in both Pokémon Scarlet and Pokémon Violet.
Well, it's no secret that the "Shape of You" singer-songwriter is a huge Pokémon nerd who still enjoys playing Pokémon Yellow and Silver on his original Game Boy Color to this day. He is also a noted fan of the charming water-type Pokémon Squirtle. To celebrate the collaboration, Sheeran got a new tattoo of Squirtle on his arm, which he revealed to tease the song.
"Even though I'm 31 now, I still own the same Game Boy Colour and play Pokémon Yellow or Silver on planes and trains when I'm on tour. It's such an honour to add a song to a Pokémon game and shoot a nostalgic video too. I hope you guys enjoy the song and video—it was a blast to film," Sheeran said in a statement.
Ed collaborated with The Pokémon Company last year for a "special performance" in Pokémon Go and recently promoted the 2022 Pokémon World Championships in London. With this new single, "Celestial," Sheeran has joined the celebrity roaster of artists like Katy Perry, Post Malone, J Balvin, and Vince Staples, all of whom featured on Pokémon 25: The Album last year.
Listen to 'Celestial' here– available on all digital streaming platforms around the world.
Sheeran elaborated on his long-standing passion for Pokémon in a separate statement through his newsletter, reminiscing about the good old days of his younger years. Ed Sheeran used to record the TV show on VHS every week and was obsessed with his Game Boy, playing Pokémon Yellow, which he got for his 8th birthday, and Pokémon Silver, which he still owns and plays on long-haul flights.
The Pokémon universe, in which he immersed himself, and the games themselves were what he most enjoyed playing the most to escape from his real-life issues.
"It gave me a proper escape as a kid into a fantasy world that seemed to go on and on, and in adult life it's nostalgia that makes me feel like a kid again. I met the people from Pokémon when I was traveling in Japan, and we joked about me writing a song for them. But now here we are."

Ed Sheeran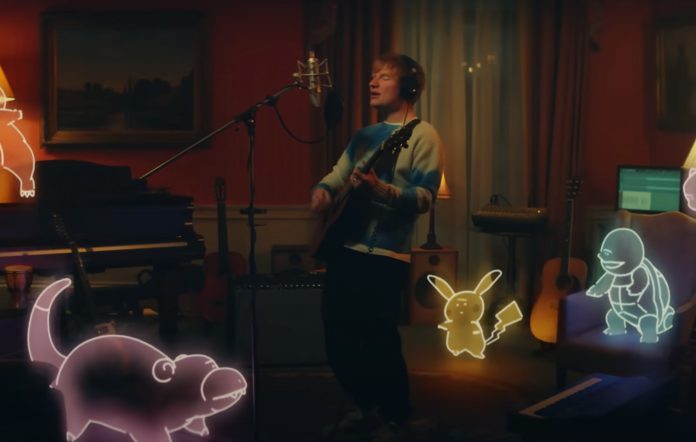 The single accompanies an enthralling and entertaining music video, inspired by his childhood fascination and features some of his favourite Pokémon such as Pikachu, Squirtle, Machamp, Snorlax, among others, and Ed Sheeran, who was experiencing intense hallucinations. He teased the "Celestial" music video about two weeks ago, underneath a blanket of Pokémon plush toys, which left all his fans confused.
With the release, Ed shared his excitement, saying,
"The video for my track 'Celestial' is out now! What a pleasure it's been to work with the amazing team at Pokémon, who have brought so much joy to millions of people around the world. I've made this song for everyone who carried a Game Boy [console] with them wherever they went. Hope 'Celestial' brings you as much joy as the games have done for me! "

Ed Sheeran
The cute and funny music video, directed by the award-winning Yuichi Kodama, follows a typical day in Ed Sheeran's life as he has a fry-up with Charmander, who helps him make food for all his imaginary Pokémon pals. Later, Snorlax saves him from a car accident, and after being struck by songwriting inspiration, he hitches a ride home from Charizard. From there, Sheeran goes full anime—art-directed by illustrator Yu Nagaba, who emulated the way Sheeran doodled Pokémon as a child—and almost [what seems like] dies in an explosion caused by Mew and Mewtwo battling.
Overall, it successfully transports the audience and fans back to our childhood when the sky was the limit of our imagination when we find our escape in the cartoons. Watch the 'Celestial' music video below:
Pokémon Scarlet and Pokémon Violet will launch on November 18, worldwide, exclusively on the Nintendo Switch family of consoles. For more information, click here to visit the website!
Play them to find the song, and let us know your favourite Pokémon names on Twitter at @Celebmix!