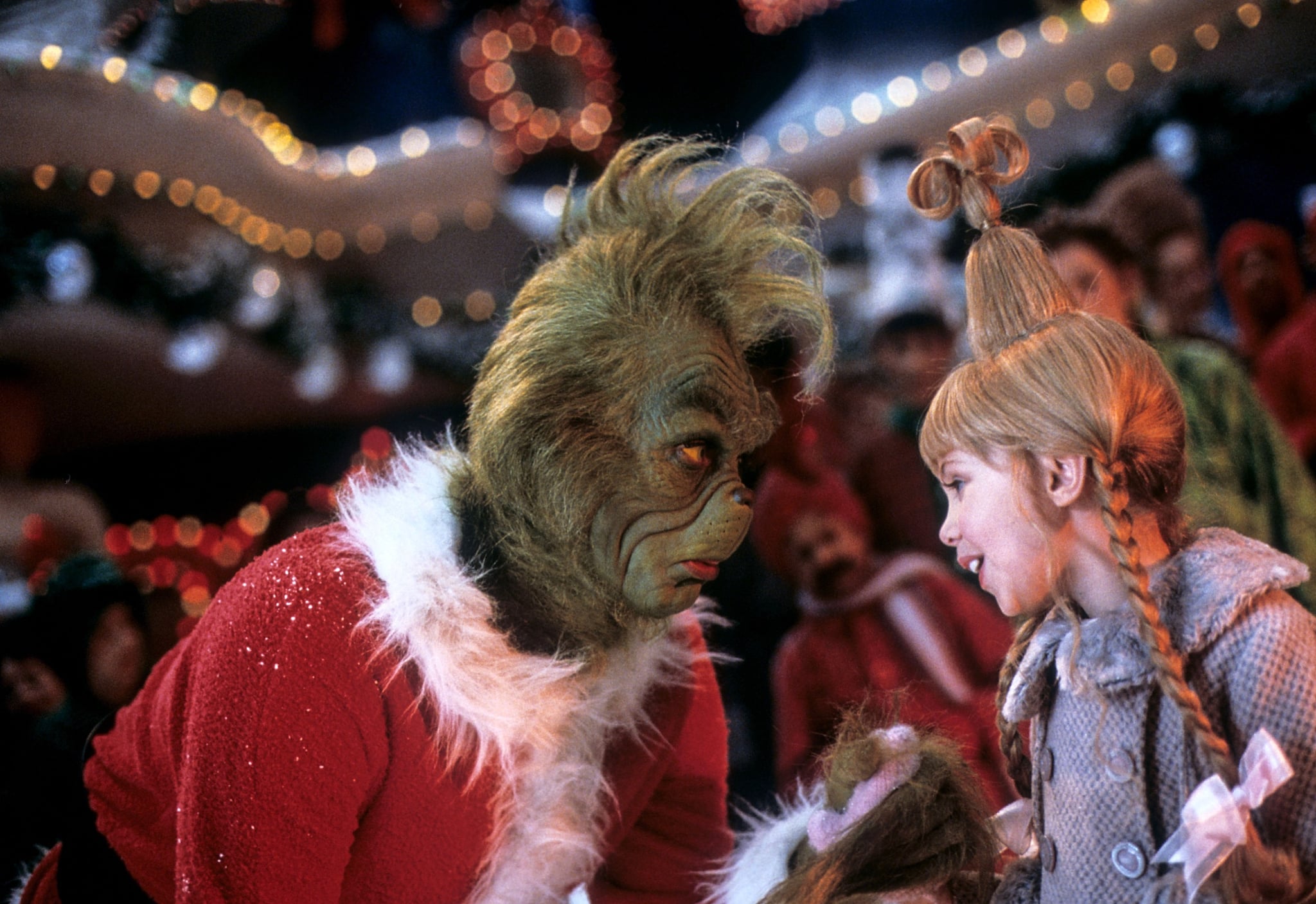 Image Source: Everett Collection
The Grinch's blood-red Santa Claus coat isn't the only splash of crimson that'll be decking the halls this holiday season. Inspired by Dr. Seuss's classic children's story, the hairy green villain is making a killer comeback in XYZ Films' new parody horror movie. "The Mean One" — which got its title from the song "You're a Mean One, Mr. Grinch," originally performed by Thurl Ravenscroft in the 1966 animated TV special "How the Grinch Stole Christmas!" — reimagines the story of the infamous Grinch by sucking out all the childood whimsy and replacing it with a gruesome storyline that results in piles of blood-stained snow.
If Dr. Seuss's original Grinch was as cuddly as a cactus and as charming as an eel, it sounds like director Steven LaMorte's The Mean One (David Howard Thornton) is someone Cindy (Krystle Martin) might need to fight off with a 39-and-a-half-foot pole. "In a sleepy mountain town, Cindy [You-Know-Who] has her parents murdered and her Christmas stolen by a blood-thirsty green figure in a red Santa suit — The Mean One," the film's IMDb page reads. "But when the ravenous, Christmas-hating creature begins to terrorize the town and threatens to ruin the holiday, she finds a new purpose — trapping and killing the monster."
Does "ravenous" imply that The Mean One's version of "roast beast" isn't chicken or turkey but that he makes meals of his victims after they've been slain? It seems likely. But with Cindy You-Know-Who — a play on words of Cindy Lou Who — out for revenge, the serial killer's reign of terror might finally be put to an end.
"The Mean One" Cast
In addition to David Howard Thornton — known as Art the Clown in the "Terrifier" film series — and Krystle Martin as Cindy You-Know-Who, "The Mean One" will also star Chase Mullins as Officer Burke, writer Flip Kobler as Lou, and Amy Schumacher as Mayor McBean. The film will also star Christopher Sanders as The Narrator; John Bigham; Erik Baker; Robert DiTillio as Don; Rachel Winfree as a bartender; Steven Busby and Jessie Holder Tourtellotte as news anchors; Allyson Sereboff as a nurse; Whit Spurgeon as a bus driver; Ernie Charles as an EMT; Stephanie Bates as Stephanie; Christine DiTillio as Martha; Victoria Ippolito as a waitress named Emily; Alexandra Vaughan as a hiker; Andrew Fultz as D*ck Santa 2; and Robin Åkerstrand as The Mean One's creature performer.
"The Mean One" Release Date
As a gift to horror fans, XYZ Films plans to release "The Mean One" — written by Finn Kobler and Flip Kobler — for free everywhere on Dec. 15. The production company did not immediately respond to POPSUGAR's request for further comment on the film.