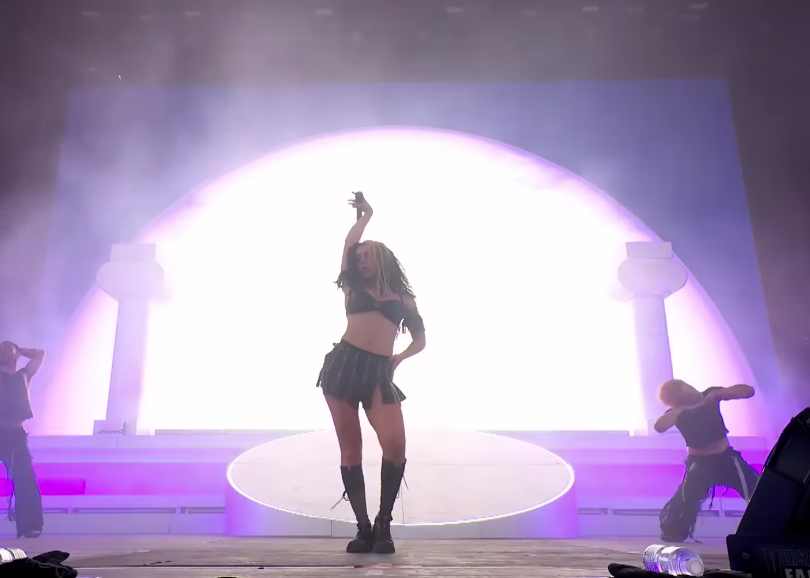 Charli XCX stands smirking over a packed-out main stage at Leeds Festival. She's just rattled through breakout hit 'I Love It' and had it screeched back at her by tens of thousands of people.
It's a song the star loves to hate – a symbol of an era circa 2014 where XCX found herself disenchanted with her own material. By 2015 she had dramatically pulled out of a co-headline tour with Bleachers citing a "need to be creative" and unhappiness in what she was doing.
Having smashed down the door of record label bigwigs and festival organisers with radio smashes 'Boom Clap' and 'Fancy' in the months prior, the singer had decided the way in which she had arrived didn't sit right.
Fast forward seven years and XCX is in those conversations again, this time with a new trademark grin and rockstar attitude – "give it up for ME," she orders Reading and Leeds crowds. She's now only one slot off headlining the whole thing.
What has Charli XCX beaming and more powerful than ever is that she hasn't chased this moment – Reading and Leeds did come begging for the pop star to save the day after Eurovision winners Maneskin pulled out.
It's fair to say that over the past seven years, the singer would have rarely thought about such a big stage. XCX found herself again by cutting her teeth in small, cramped spaces pioneered by the LGBTQ+ community. She swapped the big venues of 2015 for sweaty underground clubs and thrived doing so, cultivating not only a sound but spearheading a cultural movement. It's not that she was never capable of the lofty heights in front of her on the Leeds Festival mainstage – she just wouldn't lose an inch of authenticity for it.
Project upon project, from the SOPHIE-masterminded 'Vroom Vroom' to collaborative mixtapes and off-the-wall pop records, the XCX movement grew bigger and bigger. The mainstream could only shut her out for so long.
Come 2022, Charli XCX is inescapable. Even if you've avoided Glastonbury or Reading and Leeds, you can't open TikTok without hearing Tiesto collab 'Hot in It' and even a trip to the cinema features latest single 'Hot Girl' in the trailers these days.
After 45 minutes of holding tens of thousands in her palm, XCX saunters off stage to the dying tones of 'Good Ones'. Tomorrow is another mammoth stage and the next day another.
Charli XCX is a main pop girl with a chokehold over the industry. It is, after all, an XCX world and we are just living in it.