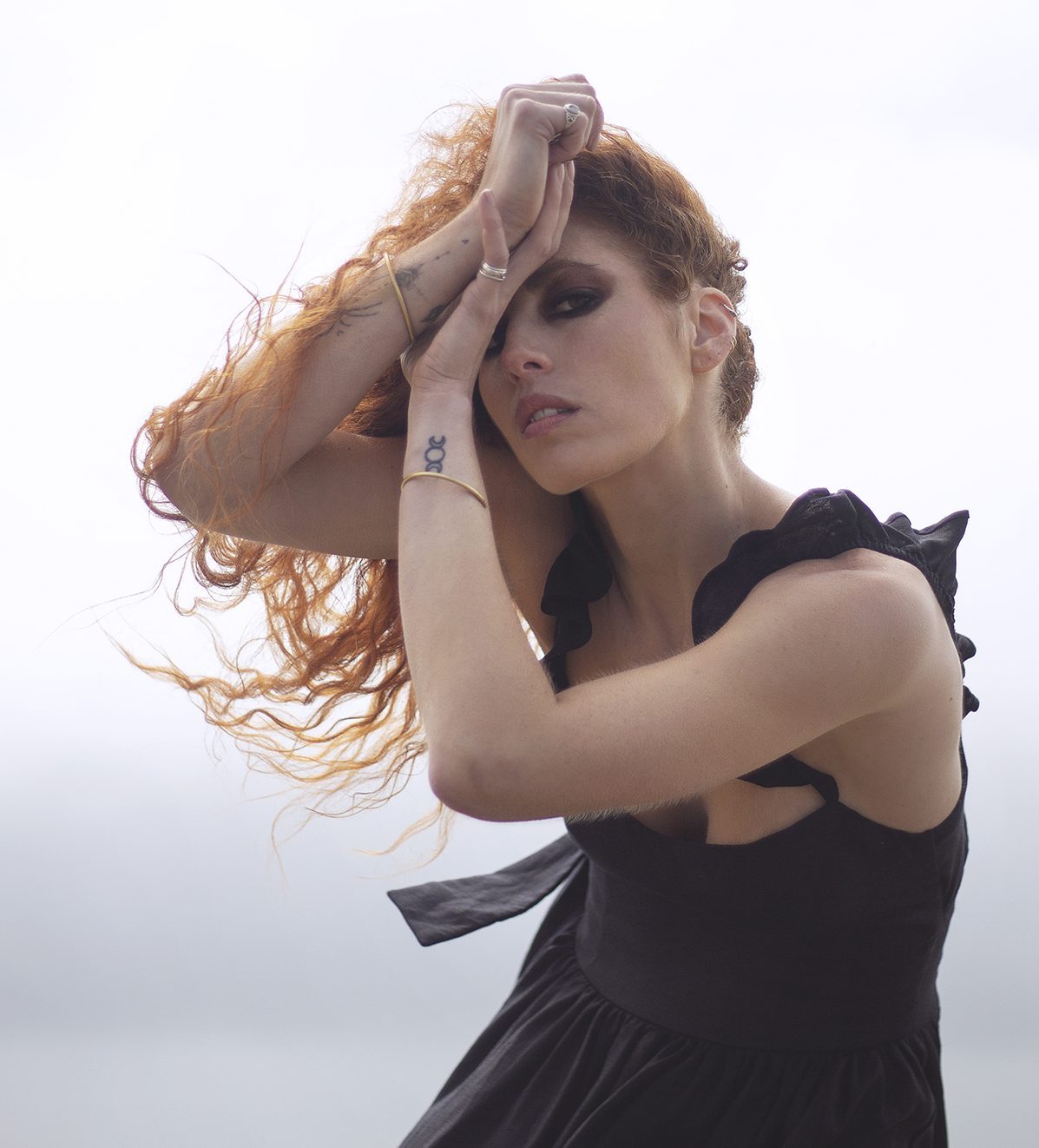 Priestess is the project and alter ego of Kate that she wanted to use as a vehicle to embody something powerful, ancient, gothic and magical. "I wanted to be able to expand and channel my art through them," Priestess says about her project. "The boys I work and create my songs with (Co-producers Oli Kilpatrick and James Mottershead), are all part of the process of Priestess too and they embrace this idea of feminine power as much as I do. They totally get it and follow my vision with their own incredible talents and creativity."
Congratulations on the release of your new single. How does it feel to look back upon it now that it is out?
Thank you! It is amazing to birth your own work into the world, but at the same time, it also makes you feel very vulnerable. It all takes so much time when life is so busy, but this helps the process to unfold in its own natural way. You can sit on these things and change them again and again, but it's also very special to acknowledge the work completed and to see how it resonates with people. Looking back, I'm really proud of its creative journey and of myself. I work very hard. And have a lot of love for all the people involved with the music and the video. I owe them a lot.
Did you learn anything about yourself whilst looking back upon the song and reflecting on the hard work, and time you put into it?
That when I have a vision and burning desire for something that I need, I should always follow it! Even if it slows a process down, or costs money. I need to believe in it, to put it out.
What is 'Holy Flesh' about and what does the song's title represent to you personally?
This track is about an idea of the sanctity within the feminine and the rage felt when violence in words and actions are inflicted against a person when at the core they are a sacred being. It was written at a time when I felt 'weak' and undermined for showing emotion and how over centuries women have been made to feel like this and I wanted to write a song about that silent anger, often without anywhere to be released or placed within society.
Does your song still represent what you wanted to say at the start of the creative process, and how was that reflected in the final version?
Yes definitely. And the video really embodies that too in a heightened and fantastical way.
What was your creative process like for your new song, and was that any different to how you collectively went about working on previous material with Priestess as a whole?
I wrote the song on the piano which is often how a track starts. And then I took it to James and we worked on all the electronics. It was recorded where I wrote it – on my parent's insanely beautiful piano – and then we messed with the sound. Then the track went to Oli to work on the percussion and beats and then the track started to become whole and we just go back and forth until we feel it was right. The writing process varies. A lot of the time it starts with something I've written as bare bones, or it can start with a beat and bass that Oli has created. It just depends.
Was there any material left off your new song, that you wanted to include but didn't for any reason – lyrically or sonically?
No, absolutely not. I had a very clear vision of what I wanted to achieve with this song and was determined to make it happen.
What would you like listeners to take away from your new song – lyrically, story or message-wise?
I want them to feel like they've listened to a sinister, haunting and beautiful tale. And there is a real message in there about rage. Women are angry and can get furious. But often there is no space for that, and it can feel very repressed. Part of the whole concept of the video in particular was what happens when that band snaps. I want it to be a little dark, chilling and powerful.
Now that your new song is out, is there anything else you have to say as an artist and want to touch on through your music?
These songs on my EP – Holy Flesh being the first – are an embodiment of my emotional experiences and so I just hope they resonate musically, visually or lyrically with people who hear them. You always hope with your music that you can put out emotion, or a feeling and someone is moved by it. I want people who listen to it to feel understood or reflect on their own experiences through it.
What can your fans look forward to coming up next?
At the end of October, I will be releasing the second track from the EP called Landscapes which was made from the Climate Sample Pack from Greenpeace. It's a very different track with a very different feeling so I hope to take people on a journey.