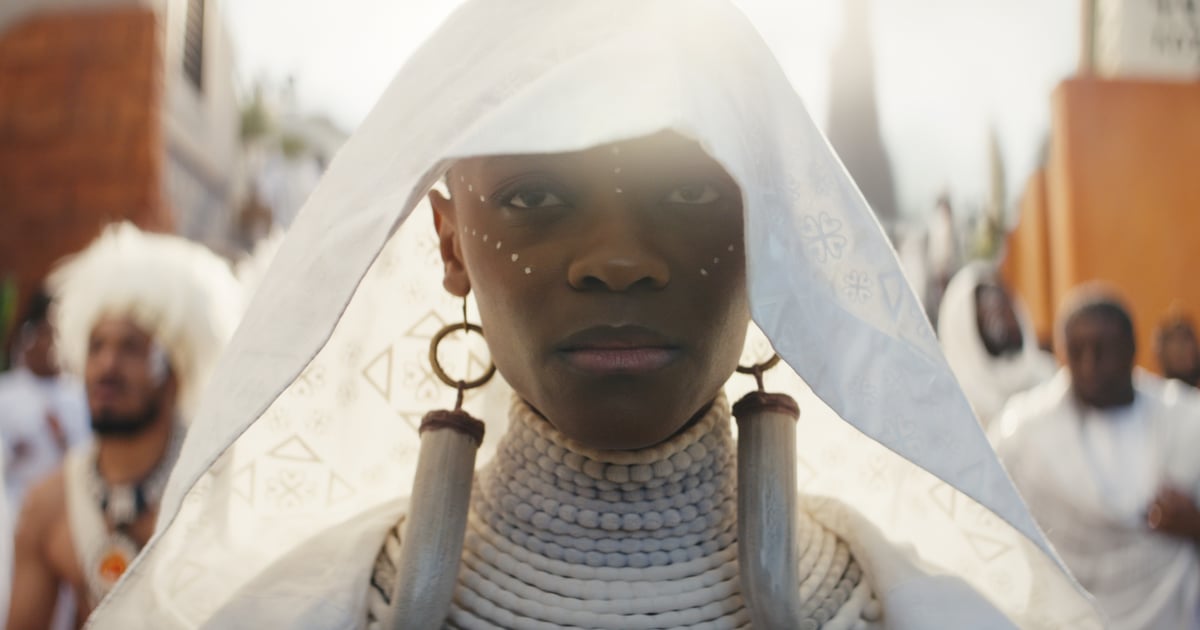 Wakanda has lost its king, but the country's people fight on in the highly anticipated sequel to 2018's "Black Panther." Marvel released the full trailer for "Black Panther: Wakanda Forever" on Oct. 3, and it not only gives viewers their first look at Namor (Tenoch Huerta), who's seemingly the film's villain, but it also finally shows someone in the Black Panther suit — and that person appears to be a woman.
The new footage comes after the first trailer arrived on July 23 during San Diego Comic-Con. From the opening moments, it's clear Wakanda is in mourning for T'Challa (the late Chadwick Boseman), but as a new threat looms, Nakia (Lupita Nyong'o), Shuri (Letitia Wright), and the rest of T'Challa's friends and family must band together to protect Wakanda. Still, even as the franchise is moving forward, Boseman's presence can be felt throughout.
On Oct. 3, director Ryan Coogler opened up about the new trailer in an interview with Entertainment Weekly. He revealed details about the MCU's version of Namor. In the comics, Namor rules Atlantis, but in the film, his kingdom is called Talocan and is inspired by Ancient Mayan culture. Coogler told EW that Talocan is like Wakanda — highly advanced and "hiding in plain sight."
Coogler also said it was important to keep Namor's iconic look, including his ankle wings. "I think with making these types of movies, you've got to lean into the weird stuff, or you risk missing what makes it fun," he explained. "He's got really unique features and things that don't necessarily go together. He can breathe underwater, obviously, but he's got these little wings on his ankles. He's got pointy ears and walks around in his underwear. It's all fun, man."
The new trailer also gives us our first look at Riri Williams, aka Ironheart (Dominique Thorne), an American teenager who uses her engineering know-how to follow in the footsteps of Tony Stark.
Ever since Marvel Studios confirmed "Black Panther"'s sequel in 2018, fans have been yearning for more details. But following Boseman's heartbreaking death, many were left wondering how the franchise would move forward without King T'Challa. Information about the second installment remained under wraps as the cast and crew figured out how to honor Boseman and the "Black Panther" legacy.
On May 3, 2021, Marvel confirmed the film's official release date and title, and in June 2021, production officially kicked off in Atlanta. "It's clearly very emotional without Chad," Marvel Studios chief Kevin Feige said before a fan event in Los Angeles on June 29, 2021, according to Variety. "But everyone is also very excited to bring the world of Wakanda back to the public and back to the fans. We're going to do it in a way that would make Chad proud."
Read on for all the details about "Black Panther: Wakanda Forever," including the new and returning cast, the movie's runtime, and its fall release date.
— Additional reporting by Sabienna Bowman.