For the past two decades, locals and out-of-towners alike have gathered for Austin City Limits Music Festival in Austin, TX, for two weekends in October. A member of the latter category, I joined the 200,000+ people in attendance for weekend one from Oct. 7 to 9, thanks to American Express (which had its own stage and several activations at the festival), who brought me along for an unforgettable, VIP experience.
I'm not an avid festival goer, so I wasn't sure what to expect, but it turns out ACL was an ideal event to dip my toes in. Set in Austin's beloved Zilker Park, the festival was an easy walk from the Carpenter Hotel in South Austin, where I stayed for the weekend. (Aside from the sheer convenience, the hotel had this cool, old Texas feel and was curated to perfection with local touches; it felt very Austin — exciting for a first-timer.)
Despite the number of people at the festival, I noticed they made up a relatively chill crowd, with a range of fans looking forward to the variety of performers. ACL's lineup catered to all kinds of crowds, from indie acts like Japanese Breakfast to both EDM and country musicians. Case in point: the big headliners this year were Pink, SZA, The Chicks, Red Hot Chili Peppers, Lil Nas X, Flume, Kacey Musgraves, and Paramore. As a casual music-lover who has a broad taste in music, I was particularly eager to see Carly Rae Jepsen, Jazmine Sullivan, and Japanese Breakfast, in addition to the headlining acts.
My all-access Platinum wristbands gave me the choice of multiple areas to enjoy the sets, like front-row access in the pits (where I witnessed Lil Nas X, Pink, Paramore, and Jepsen jamming out up close), the elevated viewing deck in the Platinum Lounge, and from the comfort of an air-conditioned deluxe lounge filled with delicious eats when I needed to recharge from all the walking and dancing. It's true what Anna Delvey says — VIP is always better.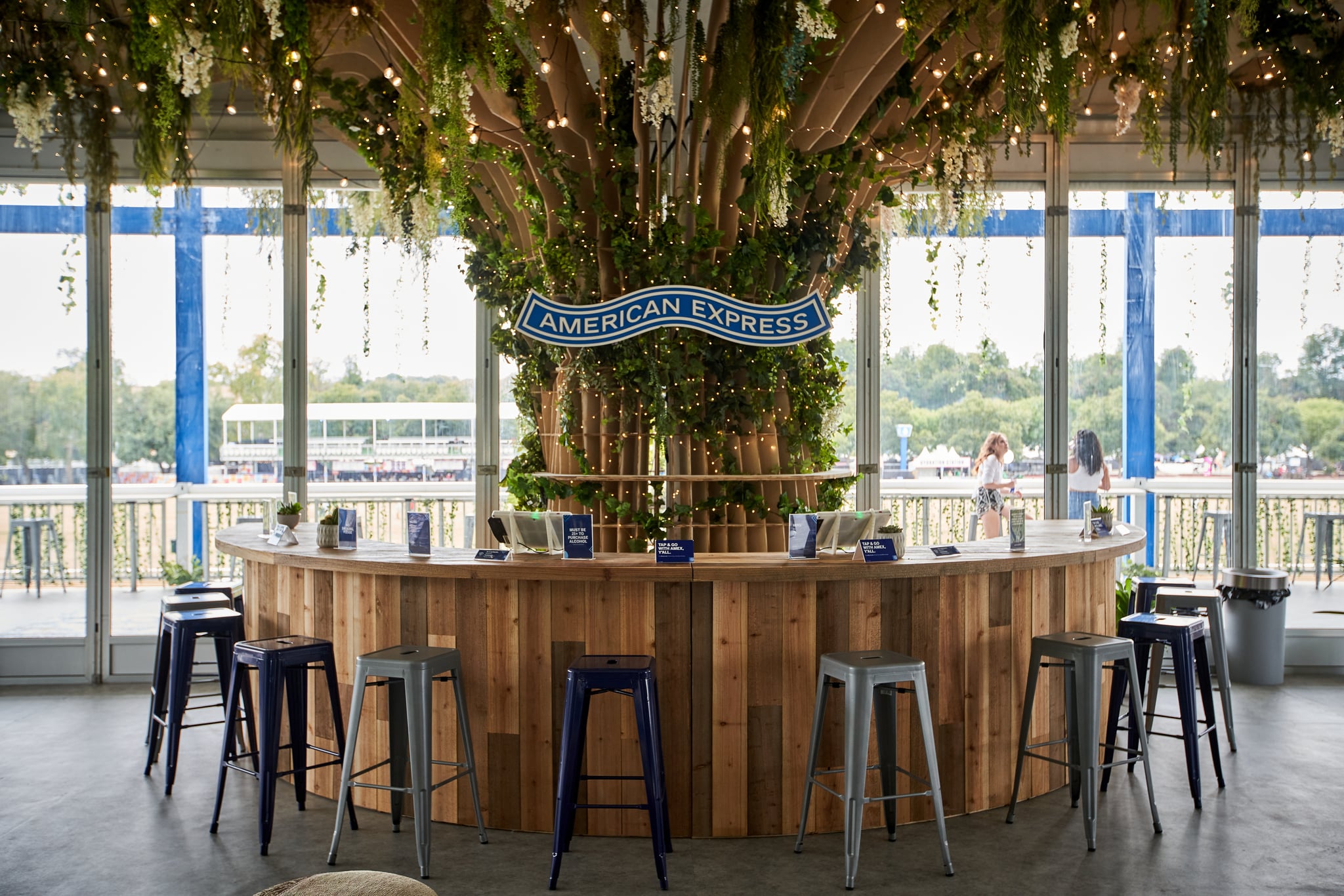 The second floor of the Amex Experience at ACL. Image Source: Courtesy of Amex / Matthew Niemann
I also hung out at the Amex Experience, which had fun activations and freebies for both cardholders and non-cardholders alike, including DIY phone charms, ice cream from local creamery Bésame, photo ops under a tree swing and in front of a mural by local graffiti artist Zuzu, and glam stations with face gems from "Euphoria" makeup artist Donni Davy. At the Amex Experience, I also minted a collectible POAP NFT (think of it as a digital ticket stub for your digital scrapbook), with a unique piece of artwork by Zuzu available each day. Luckily, these perks are available both weekends, so weekend-two guests can also take advantage of the experience.
From Lil Nas X's theatrical, compelling stage to Pink's mini Cirque du Soleil-esque performance, ACL filled me with contagious energy and offered some great additions to my Spotify playlists. I discovered new artists, heard from seasoned favorites for the first time, and found renewed love for nostalgic artists. Whether you're prepping for weekend two or curious as to what you've missed, keep scrolling to read about the most standout moments from ACL from someone who was right on the ground.