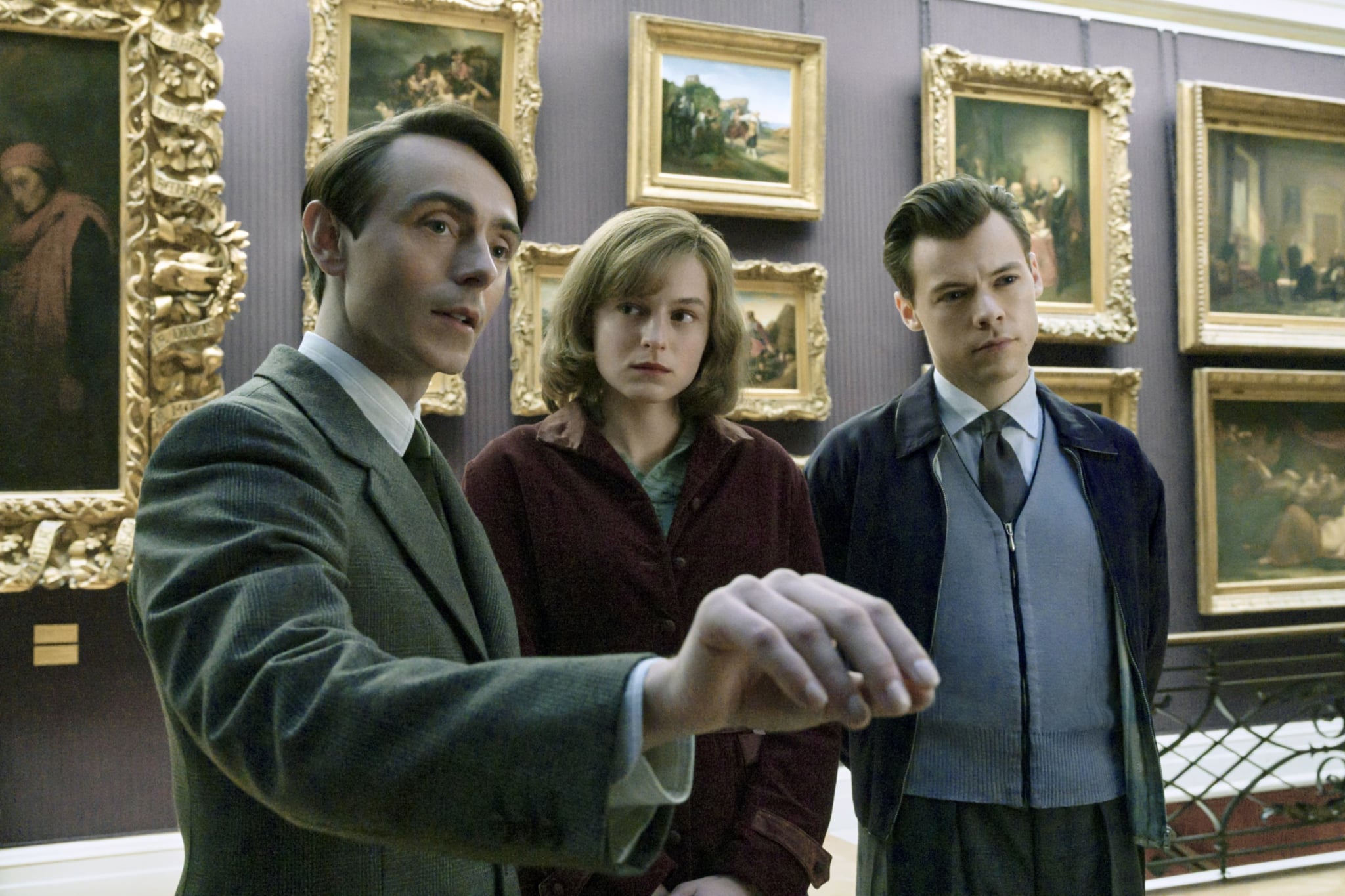 Image Source: Everett Collection
Harry Styles has generated quite the buzz in the entertainment world outside of his music in 2022. From starring in Olivia Wilde's "Don't Worry Darling" to his cameo as Starfox in Marvel's "Eternals," the "As It Was" singer is taking on more acting projects and growing his film résumé. In Styles's latest film, "My Policeman," he shares the screen with "The Crown"'s Emma Corrin and David Dawson.
The film is based on the 2012 novel of the same name by Bethan Roberts and centers on a complicated love triangle that spans decades, with the nature of the relationship dangerous to all involved.
Ahead of its theatrical release on Oct. 21, here's the story that inspired "My Policeman."
What Is "My Policeman" About?
In the 1950s, policeman Tom Burgess (Styles) meets schoolteacher Marion Taylor (Corrin). The two fall in love, eventually marry, and settle down in the beachside town of Brighton, when they befriend museum curator Patrick Hazelwood (Dawson). As the three become more comfortable with one another, Tom realizes his feelings for Patrick go beyond friendship, and the two begin a passionate love affair. However, with Marion in the middle, Tom is torn between his wife and his lover, which can have harsh consequences for everyone involved.
Is "My Policeman" Based on a True Story?
The storyline of "My Policeman" is not based on a true story. Instead, the film is based on Roberts's novel of the same name, which is loosely inspired by the life of novelist E.M. Forster, known for his books "A Room With a View" and "Howard's End."
E.M. Forster, the Man Who Inspired "My Policeman"
Image Source: Getty / Hulton-Deutsch Collection / CORBIS / Corbis
At the 1930 Oxford vs. Cambridge boat race, the life of Forster changed for good. According to The Guardian, at this event, the 51-year-old author met Bob Buckingham, a 28-year-old policeman. Buckingham was notably attractive, and Forster was immediately drawn to his large build, big smile, and kind nature. The two formed a close bond that would soon develop into a secret sexual relationship.
Not long after Buckingham met Forster, however, he met May Hockey and started dating her immediately. In August 1932, Buckingham and Hockey married, with Forster in attendance. Despite his marriage, Buckingham and Forster continued their relationship.
"By December, Forster was visiting the Buckinghams at their flat in Shepherd's Bush and becoming more involved in their life as a couple; this was the beginning of the triangular arrangement, which, like Forster's work, was at once quietly domestic and rather revolutionary," Roberts explained to The Guardian.
Buckingham lived a double life, torn between his marriage and his love for Forster. He split his marital responsibilities and extramarital affairs, pledging "his half days off, and other hours during the week, to Forster." Hockey eventually grew jealous of the arrangement but turned a blind eye to the two so she could reap the benefits of her connection to Forster, which, among many things, brought her both social status and some financial stability.
Forster and Buckingham never went public with their relationship, as being gay during that period was illegal. Forster would remain in their lives well into the later years of his life. He experienced a series of strokes in the mid-1960s, and during this time, Hockey cared for him. When he died in 1970, she wrote in part, "Over the years, he changed us both, and he and I came to love one another, able to share the joys and sorrows that came."
For the characters of "My Policeman," feelings of love, passion, and jealousy are timeless and span a lifetime. Watch the sweeping story unfold in theaters on Oct. 21 and on Prime Video on Nov. 4, and catch the trailer below.
[embedded content]