Image Source: India Yaffe
In my wardrobe, I sort of treat sweaters like the fall and winter version of a T-shirt: I wear them constantly, pair them with everything, and have a few of the same styles because I like them so much — and I'm also terrified of my favorite styles being discontinued, which has happened before. My mom always taught me to invest in the pieces you end up wearing the most because you want to feel your best in the clothes you put on every single day. I've been looking for the perfect classic crewneck sweater for a few years now, and finally found my favorite, the J.Crew Cropped Cashmere Sweater ($94 with code CASHMERE, originally $118). Plus, it's on sale right now, so I'll definitely be picking up a second color.
What I Like About the J.Crew Cropped Cashmere Sweater
I'm a big fan of cashmere. It's so luxuriously soft, and to me, there's nothing worse than the feeling of an itchy sweater. What I don't always love is the price, and I gravitate towards J.Crew because, as someone who's tried a lot of different fabrics in my life, this cashmere is the highest quality for the best price. It's super soft and not too heavy or too light. Plus, it goes with literally everything. I have worn this sweater with a skirt and boots, over high-waisted jeans, and thrown over my leggings when I need to run out and get some coffee. It's comfortable, cozy, and the easiest layering piece. I love the ribbed detailing at the wrists and hem because it makes it a bit more casual but is still so easy to be dressed up or down. Whenever I travel, whether it's for a weeklong trip or a quick getaway, this sweater is always in my bag.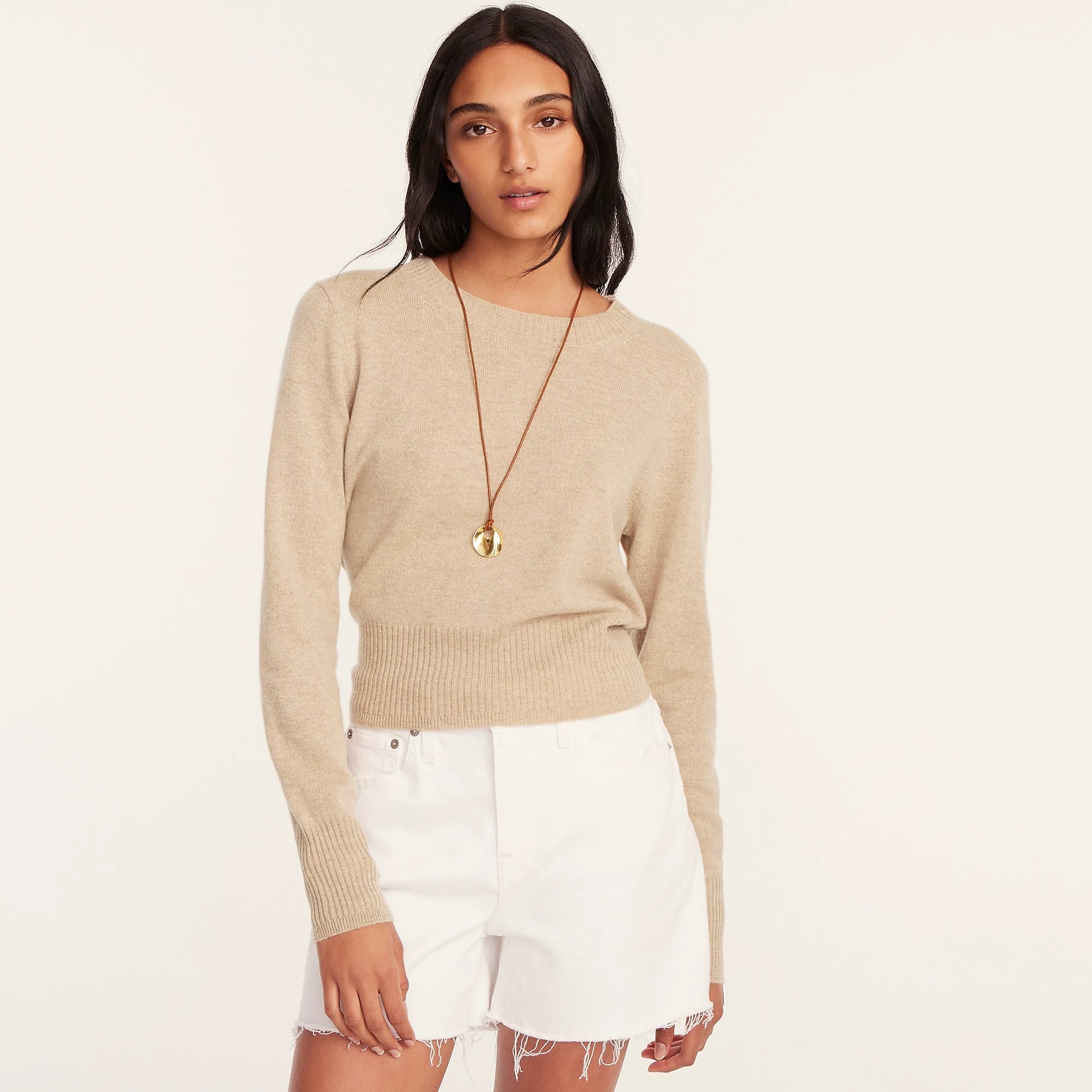 Image Source: J.Crew
What's Worth Noting About the J.Crew Cropped Cashmere Sweater
This is a cashmere sweater, so it's not immune from pilling, but there is a Cedar Sweater Comb ($20) you can buy to help keep your pieces looking brand new. The other thing to talk about is sizing. On the website it says it runs small, but that hasn't been my experience. Half of the sweaters in my closet are small, while the other half are medium. I took the medium in this style because I wanted it to be more loose, and I love it, but I might take a small for my next purchase if I want it to fit a bit more snug to the body. The size you choose should depend on how you want it to fit; if you like it to be tighter fitting, size down, otherwise your true size will work best. Plus, I made one of my best friends buy this sweater — and she's usually an extra small but took an extra extra small in this sweater for a tighter fit — and she loves it.
The other thing to note about this sweater is the crop length. It's not supremely cropped, which is one of my favorite features. For reference, I'm 5'7″, and the sweater hits below my belly button. I'm showing the slightest bit of midriff in my mid-rise jeans pictured above, and I don't have a ton of extra material if I want to tuck it into a higher-waisted bottom, which for me is a massive win.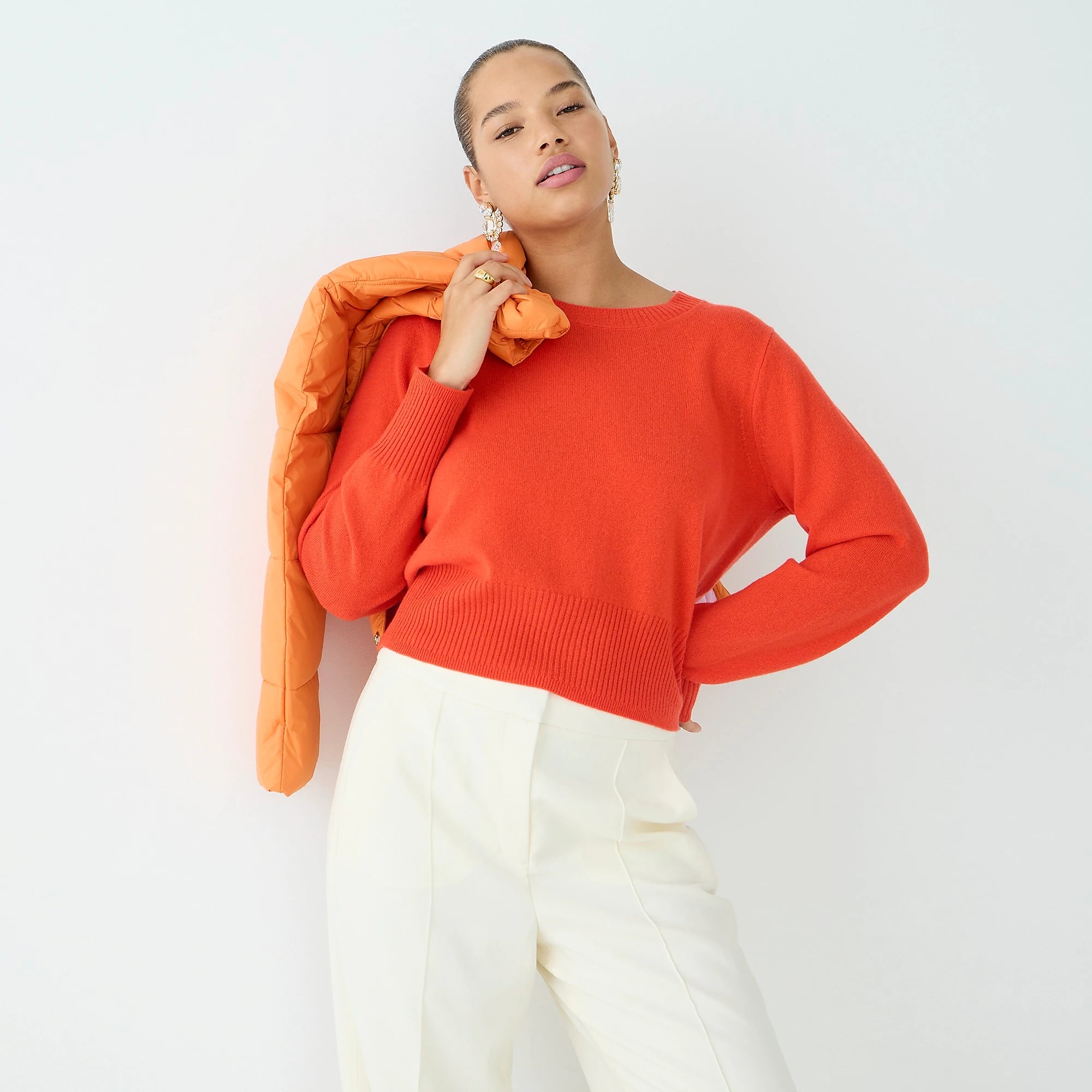 Image Source: J.Crew
Who Is the J.Crew Cropped Cashmere Sweater Best For?
If you want to treat yourself to a stunning cashmere sweater that's supremely versatile and under $100, this is the sweater for you. It's also great for people of all heights who want a sweater that's not too long but also not too short. This is a staple sweater, and one you'll come back to time and time again. It also makes for an amazing, and super thoughtful, holiday gift.
Additional Details
This sweater is available in sizes XXS–3X.
It comes in 13 solid colors as well as a striped style and a zebra-print style.
This sweater should be hand-washed.
J.Crew has partnered with the Aid By Trade Foundation, which promotes sustainable agriculture development around the world to help ensure the welfare of the cashmere goats, protect natural resources, and improve working conditions.
Rating:

Image Source: POPSUGAR Photography / India Yaffe