As POPSUGAR editors, we independently select and write about stuff we love and think you'll like too. If you buy a product we have recommended, we may receive affiliate commission, which in turn supports our work.
Finding the right wedding band to complement an engagement ring can bring many questions to light, including how minimalist your taste is and whether or not you'll be wearing your band alone. When POPSUGAR talked to Susie Saltzman, who got her start in the jewelry industry at Tiffany & Co., then built her own brand after designing her brother-in-law's engagement ring as a favor, she presented us with all the options.
Saltzman takes the time to source her own materials through environmentally responsible practices, which has made her considerably knowledgable about customizing the perfect stack. Saltzman herself wears eight to 10 meaningful bands at one time on her right hand, while she sports her engagement ring all alone on the left. Her styling choice reflects her attitude that a wedding ring stack can be whatever you want it to be. Sure, there may be traditional rules about ways to wear one, but you don't have to be tied to them.
Ahead, Saltzman recounts the questions she typically fields from her clients about wedding bands, from inquiries about the general price point to engraving choices. Scroll thorugh to brush up on the details, and re-familiarize yourself with the wedding band scene.
What is a wedding band?
A wedding band or wedding ring is a finger ring that indicates the wearer is married, and it's often complemented by a woman's engagement ring on the ring finger of the left hand. Many people also wear the wedding band alone, including men, to signify their marriage. When it comes to wedding bands, Saltzman told POPSUGAR, "I am all about the quality. I think the craftsmanship and quality of the setting is really want makes a ring stand out. I also like when designers have a fresh approach to timeless design."
Which hand does the wedding band go on?
The general rule is to wear the ring on your left hand, inside, so that it is closer to your heart, and then stack your engagement ring on top of it. While most people abide by this rule, you can truly do whatever you please.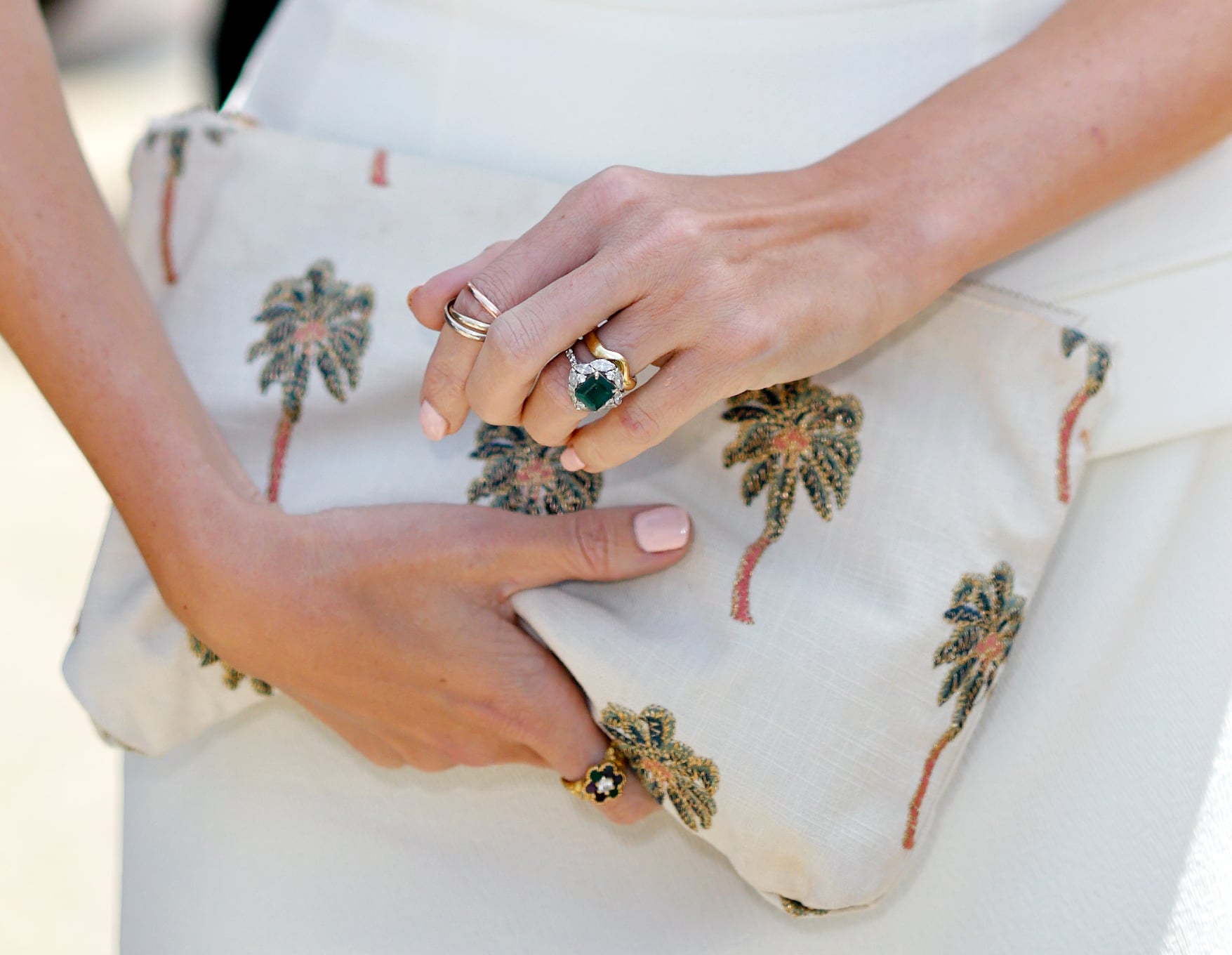 Image Source: Max Mumby/Indigo/Getty Images
How much does a wedding band cost?
Saltzman estimates that men's bands are usually around or under $1,000, and if a woman wants diamonds, you're looking at $1,950 and up.
Who pays for the wedding band?
Every couple is different, and there are no straightforward rules that distinguish one person as the purchaser. You and your partner may but the rings for each other as a wedding gift, or you can shop your ring for yourself.
What should you engrave on a wedding band?
A wedding band can be engraved with a personal message, your initials, or a quote, but Saltzman suggests engraving on the inside, off to the side, so if the band has to be resized you don't ruin the engraving. In this case, it's best to think ahead and remember that rings can be refitted and reset.
How to build a wedding ring "stack"
Saltzman recommends that your wedding band be timeless and classic, without overpowering your engagement ring. "I suggest adding texture or more intricately designed bands for anniversaries, birthdays, etc.," she says. You can play around with mixed metals, but no matter what, your stack should consist of pieces you love both together and alone.
There's no limit to the total amount of rings that comprise a stack. Saltzman advises adding as many that fit from knuckle to knuckle, and has worn up to 10 bands at once. "I love that everyone's stack tells their own story," she says. "The coolest stack is one filled with happy memories and momentous occasions. It's nice, aesthetically, to play with texture, too — different types of settings or differently shaped diamonds or metals. That adds design interest and richness."